Sandpiper Group Launches Sandpiper Research & Insights
July 2023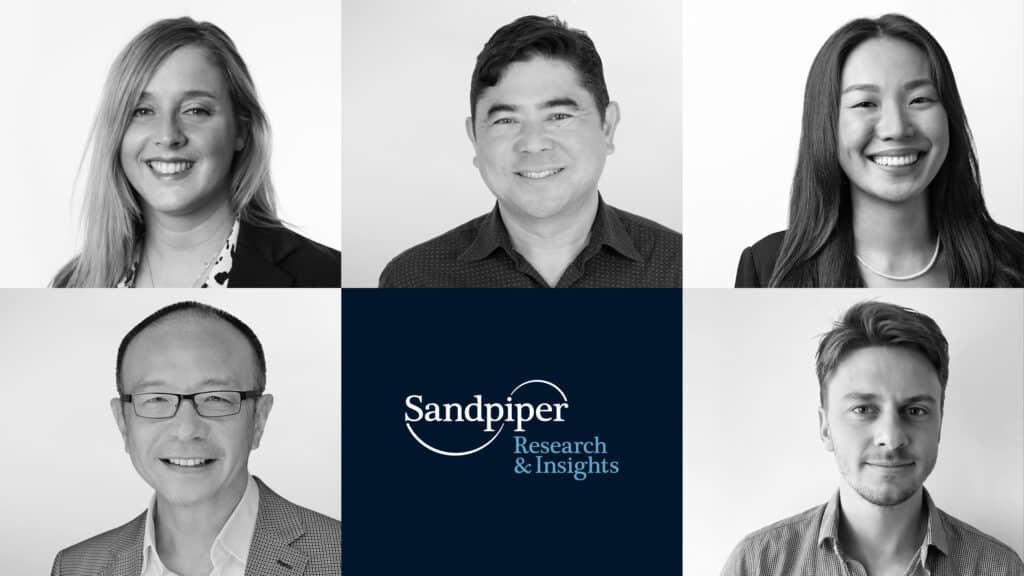 Sandpiper Group ("Sandpiper"), the largest independent reputation and policy management consultancy group headquartered in Asia Pacific, today announces the launch of Sandpiper Research & Insights, a research firm specialised in supporting communications and public affairs practitioners.
The firm is led by Craig Young as interim Managing Director, with support from an experienced team based across the region including veteran researcher Paul Chong leading brand, market, and reputation research and measurement; Alexander Thomas leading social and digital analytics; and Kelly Johnston and Iris Ng leading thought leadership and partnerships.
The launch builds on the significant existing dedicated research work by Sandpiper to support communications and public affairs programmes for clients, which has experienced huge growth in the past year.
The announcement comes as Sandpiper is also named Asia Pacific Large Agency of the Year for 2023 by both the PRCA and PRWeek.
Craig Young has 30 years' experience developing research and evidence-based programmes to shape positive policy and business outcomes for government and private sector clients in Asia Pacific. He is a trusted advisory to Government Ministries and C-Suites across the region, with a particular specialism in high impact social research. His career spans senior roles at Nielsen, Roy Morgan Research, ORC International and Engine. He is the immediate past-President of ADIA, Australia's market research industry association. Craig joins Sandpiper from Big Village where he was previously CEO for Australia.
Paul Chong is a research industry veteran with over 30 years' experience providing market intelligence, customer experience measurement and insights for businesses. He has worked across a broad range of industries and clients such as HP, Visa, Shangri-La Hotels, Porsche, Caterpillar, T-Mobile, Jaguar Land Rover, Visa, and Great Eastern. Paul started his career with the Australian Bureau of Statistics and Reark Research before he co-founded and was the managing partner of NWC Research, one of Australia's top 10 market research firms, which was sold to ORC International in 2007. He also managed ORC's global Customer Experience practice based in the United States.
Alexander Thomas is an experienced researcher and analyst, with deep expertise in social media and data analytics to achieve client outcomes. His experience spans market research, social listening, and corporate investigations for clients across a range of industries including energy, financial services, technology and healthcare across Asia Pacific, Europe, and the Middle East.
Kelly Johnston and Iris Ng are the Chief Operating Officer and a Senior Account Manager for Sandpiper Communications and Public Affairs based between Hong Kong and Singapore. Both have significant experience building global, regional and local thought leadership platforms and programme to drive business value and create competitive advantages for clients across the energy, financial, healthcare, professional services, and technology sectors. This work has been recognised with 23 thought leadership award wins and nominations over the past four years.
Kelly Johnston, Chief Operating Officer, Sandpiper, said: "In a world driven by data, we have had an increasing focus on building the research and insights capabilities within our business. This has helped us to develop world leading thought leadership platforms for clients and unlock more strategic and measurable results. As a growing competitive advantage for our firm, the time is right to launch Sandpiper Research & Insights as a stand-alone sister brand within the Sandpiper Group. We are delighted to have Craig onboard to lead this business and to welcome Paul and Alex to our growing research team."
Craig Young, Interim Managing Director, Sandpiper Research & Insights, said: "I am thrilled to be taking on this new challenge. Sandpiper Research & Insights meets a growing need in the market for research approaches that can help address the unique challenges faced by communications and public affairs practitioners. Modern communicators need research partners that have a clear understanding of their objectives, storytelling, stakeholder engagement, and an ability to operate at pace."
Sandpiper Research & Insights joins Sandpiper Communications and Public Affairs, and Sandpiper Health in the Sandpiper Group.
For more information, please contact:
Emma Smith, CEO
Emma. Smith@sandpipercomms.com
Kelly Johnston, COO
Kelly.Johnston@sandpipercomms.com
Other company news