Sandpiper Bolsters Technology Practice Leadership with New Regional Appointments
March 2023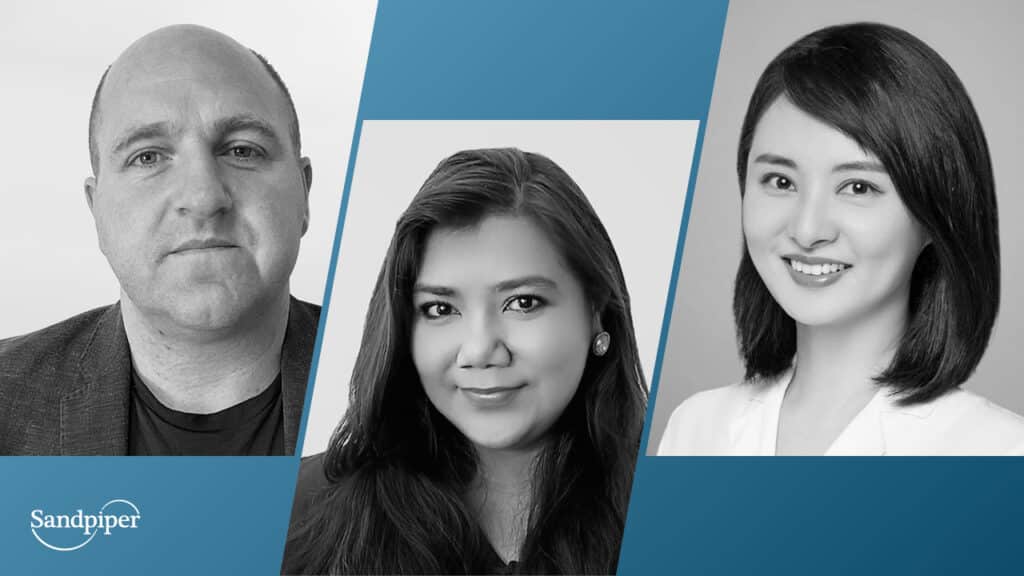 Sandpiper has announced new leadership appointments for its technology practice across Asia Pacific, as the consultancy takes on new communications and public affairs briefs with clients shaping the technology landscape.
The new leadership will see Mark Johnson leading Asia Pacific, Hetty Musfirah leading Southeast Asia, and Rong Li, leading Greater China. Each brings considerable experience spanning both strategic communications and public affairs in the technology sector as well as deep market insights.
Mark has over 18 years' experience in communications, public affairs, and public policy. He began his career working in politics in both the United Kingdom, where he ran election campaigns, and the European Parliament, where he advised a Member of the European Parliament on his Trade and North Asia remit. For more than a decade, Mark has worked in multiple countries in Asia, including China and Indonesia, where he has provided strategic communications and public affairs council for a range of tech companies. Prior to joining Sandpiper, Mark spent three year's advising fast growing scale-up companies across the region.
Hetty has over 15 years of experience in media, communications, and public affairs. She specialises in technology and sustainability, empowering Asian and global companies to enhance their corporate reputation, thought leadership, government relations and stakeholder engagement strategies across the Asia Pacific region, including within Southeast Asian markets. Prior to joining Sandpiper, she served as a deputy press secretary in Singapore's Prime Minister Office and Ministry of Trade and Industry, and worked as a journalist with Channel News Asia.
Rong has over 18 years of experience in strategic communications and media. She has supported multiple international corporations in establishing brand recognition in China as well as assisting Chinese enterprises with global communications strategies. Prior to joining Sandpiper, she was the PR Director for a Chinese B2B software firm, where she was responsible for developing the company's communications strategy, CEO branding, and crisis management response. She also worked as a reporter for China Central TV.
Emma Smith, Chief Executive, Sandpiper, said: "With technology playing a growing role in every aspect of our lives, and innovation occurring at an accelerating rate, communications and public affairs challenges are increasingly entwined. We have seen the importance of technological disruption occurring with due consideration for reputation management and regulation. We believe our combined communications and public affairs offering is a unique proposition in the region to help technology companies of all stages of maturity navigate future challenges."
Mark Johnson, Technology Lead, Asia Pacific, said, "Technological advancements are underpinning everything we do today. These advancements are disrupting industries and changing the very nature of our day-to-day lives. They are providing new ways to think about how we shape business and the impact it can have on the world around us. The APAC region is at the forefront of all these advancements. I am delighted to join my colleagues across China and Southeast Asia to help drive Sandpiper's tech communications and public affairs practice forward and ensure businesses use our industry expects to navigate and find success in this rapidly changing region."
Hetty Musfirah, Technology Lead, Southeast Asia, said, "As companies and people seek to adapt in an ever-changing world, technology will continue to be an enabler and the fast-growing region of Southeast Asia offers tremendous opportunities for tech companies looking to expand. Having deep insights into such a diverse region is important to building strong corporate reputation, trust and business success. I look forward to strengthening Sandpiper's offering in thought leadership, public affairs and strategic communications advice for the benefit of our clients, while leading teams for continued business growth."
Rong Li, Technology Lead, Greater China, said, "Greater China has one of the world's fastest-evolving technology ecosystems, and is playing a leading role in shaping the future of innovation globally. There are immense opportunities for tech-companies in based in the region to achieve even greater global recognition, including both established tech giants and emerging startups seeking rapid growth. I look forward to leveraging the unique strengths of Sandpiper, to help our clients achieve their goals and overcome their challenges in this dynamic and fast-growing market."
For more information, please contact:
Emma Smith, CEO
Emma. Smith@sandpipercomms.com
---
Other company news