Sandpiper Appoints Camille Middleditch and Charlotte Whale to Growing New Zealand Team
February 2023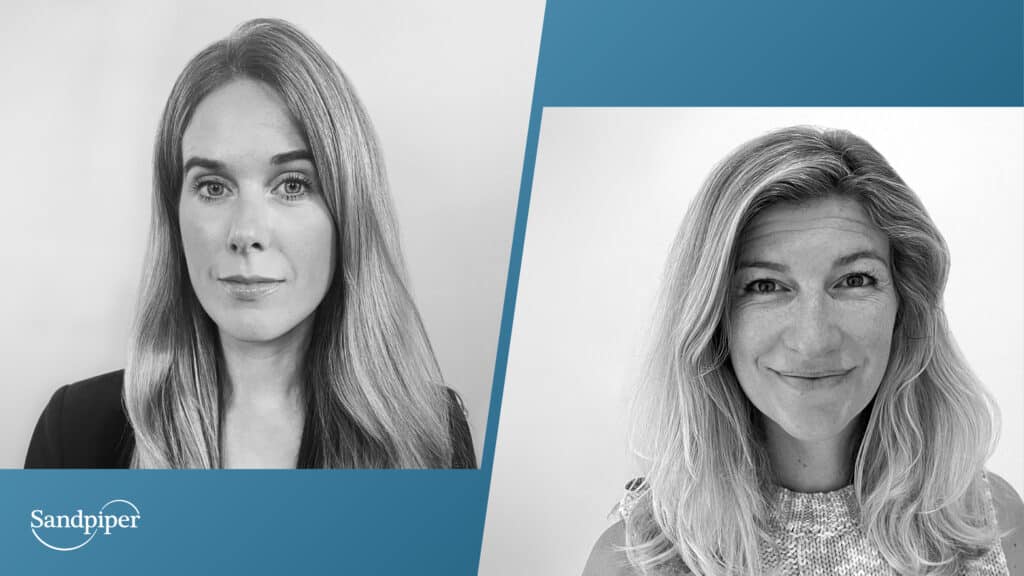 13 February 2023, AUCKLAND, NEW ZEALAND – Strategic communications and public affairs consultancy Sandpiper, today announced the appointment of Camille Middleditch as Associate Director and Charlotte Whale as Senior Consultant, growing its presence in New Zealand.

Ms Middleditch joins from a local full-service communications consultancy and will support the growth of Sandpiper across the New Zealand, Australia, and Asia markets. She has over 14 years' experience in corporate communications and ESG advisory in New Zealand and the UK, working with clients across a range of industries including Schroders, Burberry, Sage, Palo Alto Networks, Fullers360, Exsurgo, AUSTREX NZ, and Doppelmayr. She has also worked as an advisor in New Zealand's Ministry for Primary Industries, the New Zealand Racing Board, and Engineering Firm, WSP.

Ms Whale has over 20 years' experience as a journalist and producer in international newsrooms including the BBC in London and Al Jazeera English in Doha, Qatar. She has covered many of the biggest news stories to hit the headlines over the last two decades including the Mumbai terror attacks, Greek economic crisis, the Arab Spring, and the outbreak of the Syrian war.

She will work closely with Sandpiper's New Zealand Director and Director of International Media and Crisis, Ed Brewster, to grow Sandpiper's international media and crisis practice working with clients across Asia Pacific and globally on international media engagement, messaging, press office management, crisis management, and media training.

Both Ms Whale and Ms Middleditch will be based in Auckland and will advise existing Sandpiper clients in New Zealand, reporting into Ed Brewster, as well as international clients operating across the Asia Pacific region and globally.

Their appointment follows the opening of Sandpiper's New Zealand office in December 2021, which has consultants based across Auckland and Hawke's Bay, and acts as Sandpiper's regional primary industries hub.

Emma Smith, Chief Executive, Sandpiper said: "We continue to see a clear opportunity in the New Zealand market to support local organisations with Asia and international growth and investment ambitions, as well as domestic strategies, particularly in the primary industries. Camille and Charlotte are both accomplished, senior practitioners who bring a wealth of knowledge and experience to our local and international clients, and I am thrilled to welcome them to our team."

Camille Middleditch, Associate Director, Sandpiper said: "I'm delighted to join a growing team that provides a unique offer to the New Zealand market. Sandpiper's deep sector knowledge across the Asia Pacific region provides New Zealand companies with the opportunity to engage with local and international audiences informed by insights and supported by a global team of industry leaders."

Charlotte Whale, Senior Consultant, Sandpiper said: "I'm excited to take the next step in my career shifting my focus from journalism to communications and joining the growing team at Sandpiper. I am driven by the power of storytelling and believe that the skills, knowledge, and passion I've developed as a journalist will serve our clients well, supporting organisations and individuals to tell their stories in a more impactful way."
For more information, please contact:
Emma Smith, CEO
Emma. Smith@sandpipercomms.com
Ed Brewster, Director, New Zealand
Edward.Brewster@sandpipercomms.com
---
Other company news