Sandpiper Communications Acquires North Head as Firm Expands Greater China and Public Affairs Offering
25 October 2021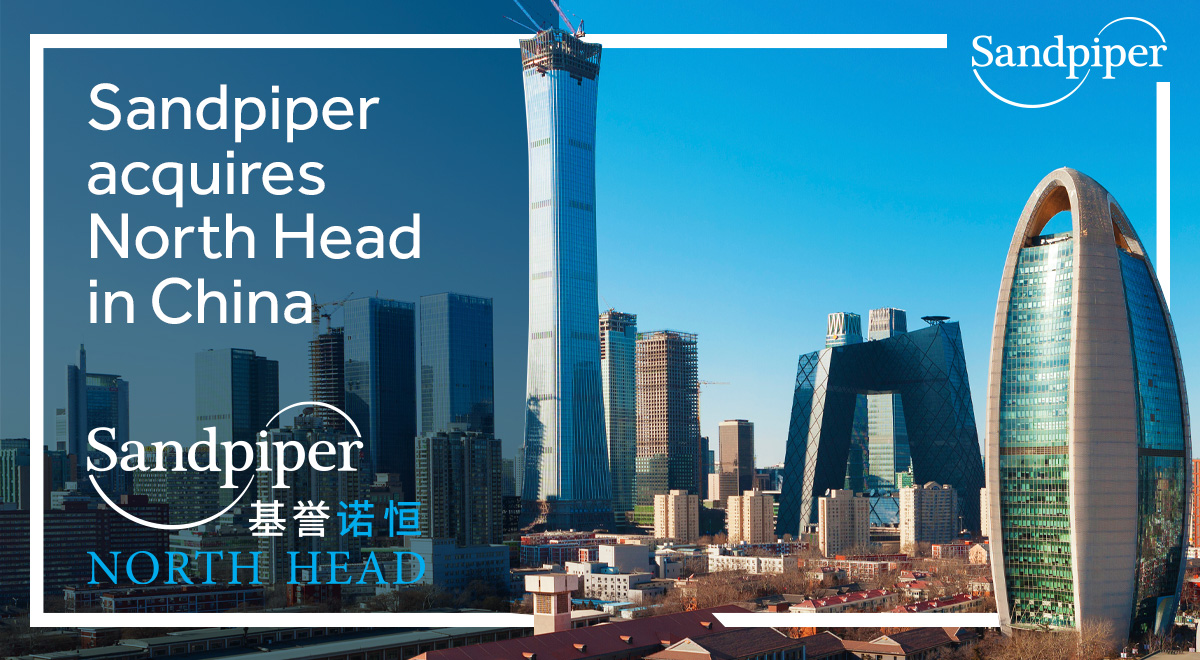 Sandpiper Communications ("Sandpiper") has today announced its acquisition of the leading China-based public affairs and strategic communications consultancy, North Head.
Led by industry veterans, John Russell, Robert Magyar, and Joyce Li, North Head was established in Beijing in 2010. Over the past decade its team has advised leading multinational businesses and brands in China and across Asia Pacific on high-stakes, complex public affairs and communications challenges. Among its achievements, North Head is the recipient of multiple industry awards, including being named Agency of the Year four times by PublicAffairsAsia.
The acquisition is announced as Sandpiper expands its regional presence and is recognised as Asia Pacific's fastest growing agency and Asia Pacific PR Agency of the Year by PRWeek Asia in 2021 as well as Asia Pacific Corporate and Public Affairs Agency of the Year and a Best Place to Work in the region in 2021 by PRovoke.
As part of the acquisition and facilitated by Sandpiper's one P&L model, North Head's specialist expertise and experience in government and public affairs will be immediately rolled out across Sandpiper's Asia Pacific network to its clients based in Australia, China, Hong Kong, Singapore and globally.
The China business will be renamed Sandpiper North Head, with John Russell remaining Managing Director.
Emma Smith, Chief Executive, Sandpiper Communications, said: "North Head has been a long-term partner to our business, and after many years of friendship I am thrilled to officially welcome their wonderful team to our family. Our offerings are incredibly complementary, and the acquisition will strengthen our Greater China presence and network-wide public affairs advisory capability. With the increasing complexity and uncertainty across the global business environment, it is critical that strategic communications efforts consider and align with government agendas and North Head's experience will bring a deeper perspective to our expertise in this area."
John Russell, Managing Director, Sandpiper North Head, said: "Having successfully and happily worked together with the Sandpiper team over the years on various clients, I am excited that North Head will now join formally the Sandpiper family. This is a win-win move, with many synergies given the complementary profiles and strengths of Sandpiper and North Head. The outcomes will be a stronger offering to our clients and enhanced opportunities for all our employees."
About Sandpiper Communications
Sandpiper is a strategic communications consultancy based in Asia Pacific and operating globally. Our team are trusted advisors to industry leaders and market disruptors. We combine strong regional market understanding with global perspectives. Our deep specialist knowledge in the health, technology, finance, professional services, consumer brands and energy and environment sectors ensure we understand the challenges our clients face, can think creatively about their issues, and shape communications to achieve their business goals.
Operating with one global P&L, we are nimble, creative, and able to harness new technologies to deliver advisory backed by rigorous research and deep insights. This enables us to meet the evolving needs of our clients quickly and effectively wherever they are in the world.
About North Head
North Head is an independent strategic communications consultancy with a clear China focus. Focused on a research- and knowledge-based approach, North Head works on international campaigns and reputation management.
For more information about North Head, please visit www.northhead.com
For more information, please contact:
Emma Smith, CEO, Sandpiper Communications
John Russell, Managing Director, North Head
You may also like: