Public Affairs Tracker: The Impact of U.S.-China Relations on Tech Sectors
March 2023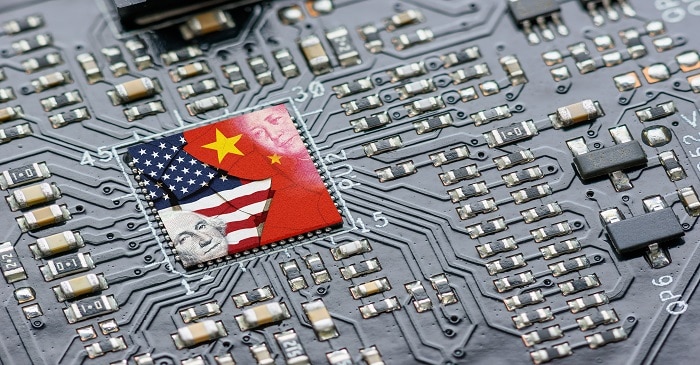 A paradox of interdependence
Navigating the volatile U.S.-China relationship is becoming a challenge for global business executives, many of whom are finding their industries caught in the crossfire of rapidly changing geopolitical headwinds. The situation seems confusing and even paradoxical. When the United States published its 2022 trade figures for China last month, the data made for some interesting revelations. Last year's total trade value between the world's two largest economies had reached an eye-watering $690.6 billion – just shy of $1.9 billion per day – breaking the previous record from 2018. It is difficult not to be surprised by this. Trade between the United States and China continues to flourish while deeper rivalries simmer away unabated.
The perception of China as the number-one strategic adversary is one of the few major issues in American politics to have attracted a genuine bipartisan consensus. Meanwhile, the prevailing view in China is that America is not interested in China's rise and looks determined to keep it down. Speaking to industry leaders on the sidelines of the annual "Two Sessions" meetings of China's legislature, President Xi Jinping was unusually candid in condemning what he sees as an American-led strategy of "containment, encirclement and suppression" against China.
Yet the situation is as unique as it is seemingly insoluble. While tensions between the two countries are increasingly being framed in the language of a "new Cold War", a fundamental difference remains, in that the daily value of bilateral trade is orders of magnitude greater than it ever was between the United States and the Soviet Union.
Still, while the two economies are inextricably bound together, other strategic concerns have begun to overshadow calculations of economic self-interest. Reducing reliance on China is being framed in the language of national security, while "decoupling" has become an indispensable buzzword of the times. Perhaps nowhere is this trend more clearly visible than in the technology sector.
In China as well, significant shifts are taking place, with science and technology coming under increasing political oversight from the Communist Party. One of the most consequential outcomes of the recent "Two Sessions" was the broad package of institutional reforms, which will see the Ministry of Science and Technology (MOST) transformed into a leaner, more effective organ, reporting directly to a new, party-led central commission and tasked with executing the national sci-tech strategy, with directives coming from the very top. At the same time, a new National Data Bureau (NDB) will be created to spearhead the development of the data economy and facilitate the government's "Digital China" strategy. These new developments speak of the increased politicisation of China's sci-tech sector, with the party deliberately taking on a more active role in shaping policy, based on a deep-seated concern for shoring-up national resilience and reducing reliance on the outside world.
Impacts on tech
The most profound impact that "decoupling" is having on the technology sector is most clearly visible with respect to the global supply chain, which has experienced increasing disruption and recalibration in recent years. This has been true not only of advanced manufacturing industries such as semiconductors, telecommunications, and electric vehicles (EV), but also with regard to the R&D of technologies that rely on data sharing and analysis. Technology-related industries in both countries, and increasingly in the rest of the world, are experiencing an intensive localisation and "friendshoring" of their supply chains.
The United States is the main driver of this process, having issued a host of restrictions on the export of goods and technologies to China and Chinese companies. The most notable aspect of this is the U.S. government's efforts to limit Chinese companies – not only those presumed to be military end-users, but also civilian entities – in their access to high-end chips and any related equipment and software needed to produce them.
In recent years, a perfect storm of factors – including export controls by the United States, trade war tariffs, rising labour costs, and China's three-year zero-Covid policy – has been pushing MNCs in the advanced manufacturing sectors to reconsider their supply chain strategies and go for a "China Plus One" approach. This entails reducing one's reliance on Chinese manufacturing for overseas markets, while tailoring the China operation specifically to the Chinese market.
Under the Biden administration, the U.S. government has been allocating exceptional resources towards ensuring that America becomes the "One", while trying to remove "China" entirely. The CHIPS and Science Act, signed by President Biden last summer, enables the government to invest over $100 billion to incentivise manufacturing and R&D in semiconductors and telecommunications. Notably, the recipients of such subsidies are not allowed to "build certain facilities in China and other countries of concern".
Businesses operating without gigantic factories but relying on large-scale data are not free from this trend either. As digitalisation percolates throughout our society, data is also becoming a strategic asset, which governments are increasingly trying to protect from foreign entities. This inevitably leads to compliance risks when it comes to the global circulation of data and the localisation of any data-related businesses.
China's Cybersecurity Law, Data Security Law and Personal Information Protection Law all include restrictions on the cross-border transfer of data, which have been consolidated through a series of regulations issued since 2022. The challenge that TikTok has faced in the United States is similar in nature; resolving it will likely mean that ByteDance cannot allow its engineers in Beijing to use American user data for developing the company's recommendation algorithms.
More generally, the environment for tech companies from both countries is becoming increasingly complex, if not hostile, making it more and more difficult to win new business. Sectors considered relevant to national security are subjected to tighter scrutiny by regulators, with the ostensible aim of assessing the presence of foreign technologies, while also promoting domestic substitution or "friend-substitution".
Takeaways for business
The major lesson that companies around the world should take from the U.S.-China tech war is that the globalisation we had all come to know has undergone a profound realignment, while fierce competition is here to stay. Compliance issues related to supply chain, data management, and cross-border M&A are likely to become more complicated and costly. Therefore, companies – and especially MNCs – must strengthen their capabilities in public affairs and fully integrate geopolitical considerations into their business plans. Crucially, this entails a thorough and systematic approach to policy monitoring and analysis, as well as an appropriate government engagement strategy to communicate the right messages to key policy-makers, both in the United States and in China.
With this new volatile environment also come new opportunities. Southeast Asia is likely to benefit from both American and Chinese companies' efforts to circumvent supply chain restrictions. Singapore appears to be developing into one of the most attractive destinations for the global chip industry, from Soitec to GlobalFoundries. Meanwhile, China's EV maker BYD has announced significant investments in Thailand and Vietnam. New ecosystems are expected to emerge around these major projects, partnering both American and Chinese MNCs with local stakeholders at all levels.
At Sandpiper, we can assist companies in Greater China and the wider Asia-Pacific region in navigating this complex political and economic environment, enhance government engagement, and build campaigns to communicate the right messages. If you would like to know more about our bespoke approach to serve our clients, contact us today.
---
Related news & insights: