Consumer Expectations Index 2022 for Asia Pacific
– Two thirds of Consumers Believe Companies Should Prioritise Environmental Protection over Profits
October 2022
Asia Pacific – A new report published by Sandpiper today reveals that 66% of consumers across Asia Pacific believe that companies should be prioritising environmental protection over profits, and 60% believe governments should do the same.
Sandpiper's
which looks at the expectations consumers have of public and private sector organisations and their leaders around sustainability issues, is based on a survey of 6,000 consumers across 11 markets in the region.
Consumers see themselves as part of the solution and the problem
Consumers in Asia Pacific ranked governments (91%) as being the most responsible for solving sustainability issues, with publicly listed companies ranked second (85%), ahead of consumers themselves (76%) and media (76%).This was also reflected in responses around which individuals have the most power in relation to sustainability issues with 52% ranking Heads of State as being the most powerful, followed by Government Ministers and Officials at 25%, Consumers themselves at 6%, and CEOs at 5%.
However, while consumers in Asia Pacific believe governments are making the strongest contribution to environmental sustainability, they see themselves as the greatest underperformers.
Climate change no longer a debate
The research reveals that an overwhelming 97% of consumers across Asia Pacific believe climate change is a reality, with just a very small minority (3%) saying otherwise. This is despite only 46% of Asia Pacific consumers saying they have a strong understanding of climate change.
When asked about their feelings around climate change, the top emotions consumers feel that emerge among consumers regionally are concern (43%), frustration (23%), guilt (15%), with a further one in five (20%) saying they are satisfied the problem is being managed or feel indifferently.
Selected Sectors and Issues in the Spotlight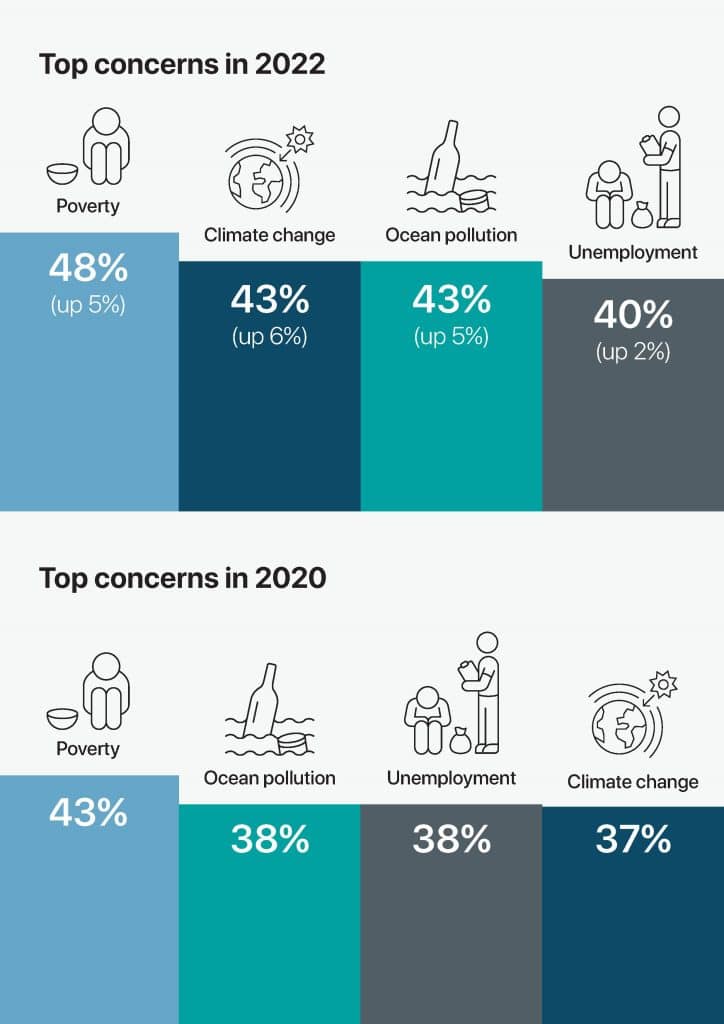 People this year are more concerned about poverty, climate change, ocean pollution and unemployment than they were in 2020.
Hong Kong is the most concerned over unemployment in 2020 (42%) among the six markets surveyed then, but went below overall average in 2022, at 36%. Respondents in India showed greatest concern over poverty in 2020, with almost 60% saying that they are worried about how this problem will develop in the future, however the percentage dropped slightly to 55% in this year's survey. Indonesia respondents are most concerned over poverty (63%), unemployment (58%), and Ocean Pollution (52%) in 2022 among all markets. They are also only after (54.8%) Philippines respondents (56%) in concerning about climate change.
Looking specifically at sectors, more than 1 in 10 consumers see five sectors as irresponsible or non-compliant when it comes to regulation, the worst performing sectors viewed as irresponsible or non-compliant with regulation are: mining (21%), government and public service (14%), energy (11%), financial services (11%), and construction and engineering (11%).
Language Matters
While 84% of consumers surveyed across the region say they have at least an average understanding of what sustainability means, only 37% have a strong understanding of it. Fewer have an average level of understanding of more technical terms including Corporate Social Responsibility (CSR) at 80%, Environmental, Social & Governance (ESG) at 74% – showing that talking to consumers about these issues in everyday, non-technical language is important.
While the underlying issues that are sought to be addressed by the United Nations' Sustainable Development Goals (SDGs) are of wide concern, only 60% of consumers across the region have heard of them. The markets in the region with the highest awareness of the SDGs are China (76%), India (71%) and Hong Kong (55%), and those where consumers have the lowest awareness are Australia (34%), Singapore (37%) and Malaysia (46.0%)
Emma Smith, CEO, Sandpiper said: "As global sustainability challenges continue to grow we see increasing expectations on all organisations and individuals to act. While governments are shouldering the weight of solving sustainability challenges, increasingly consumers see both private companies and themselves as critical to solutions and they have a growing appetite to learn more and be involved. While understanding of more technical areas of sustainability still remains low, organisations should be preparing for consumer knowledge and scrutiny to increase in the coming years as interest grows across every age group and demographic."
-Ends-
Methodology
For this study Sandpiper conducted an online survey with 6,000 consumers from 11 Asia Pacific markets. Depending on population size and complexity, a sample size of between 500 and 1,000 respondents was surveyed to provide statistically significant findings which can be extrapolated to the general population. In addition, age and gender quotas were set based on their respective proportion of the population.
Consumer Expectations Index Asia Pacific 2022 Launch Event
The global virtue launch event was co-hosted with PRovoke Media and joined by a panel of esteemed industry leaders.
---
Related news & insights