Driving Access to Accurate Health Information
Leveraging the right channels and communications strategies to engage patients
Jul 2022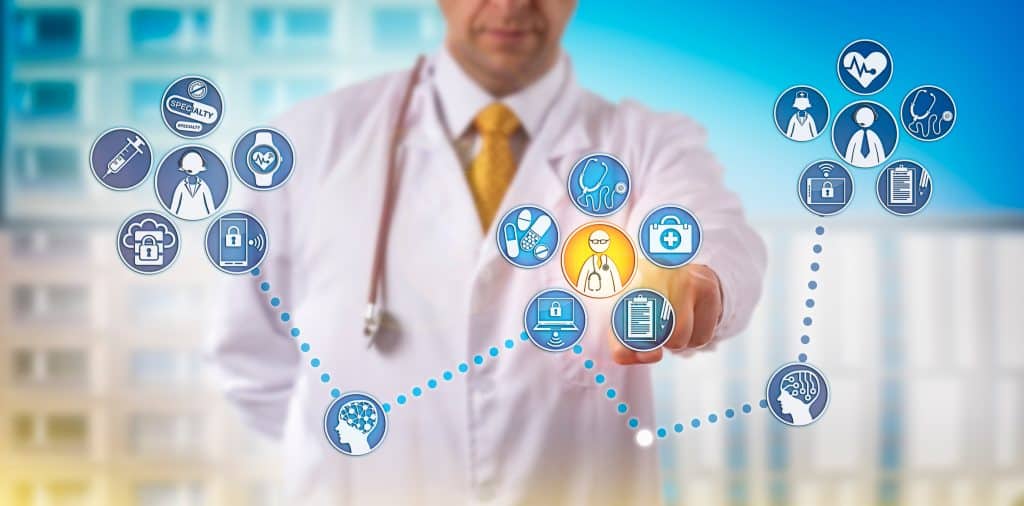 by Beatrice Hua, Senior Account Manager based in Sandpiper Singapore. Beatrice has broad experience in healthcare communication, patient advocacy, research, stakeholder engagement and content development. She, together with Cadence Hong (Senior Account Executive at Sandpiper Singapore) won the Silver Award for the PRCA APAC Singapore Young Lions PR Competition 2022.
---
The person who manages our health most, is us. Access to relevant up-to-date health information both online and offline is important for personal and public health outcomes, as people try to stay healthy and manage long term conditions at home. With more than half – or 2.6 billion people – across the Asia Pacific now using the internet, providing credible health information across various online channels has become increasingly important to build trust, empower people with the right information and combat misinformation.
Sandpiper Health carried out a survey across Asia Pacific to explore how people access health information – what channels they use, how this differs across various demographics, what concerns they have about misinformation, and how this has changed since the COVID-19 pandemic.
We surveyed almost 12,000 people, aged between 18-74 years, across 11 Asia Pacific territories (Australia, China, Hong Kong SAR, India, Japan, Malaysia, Singapore, Indonesia, Philippines, oThailand, and Vietnam) in late 2019 and in late 2021 via online surveys.
Here is a summary of what we found:
Online news, word-of-mouth and social media are important channels to receive health information.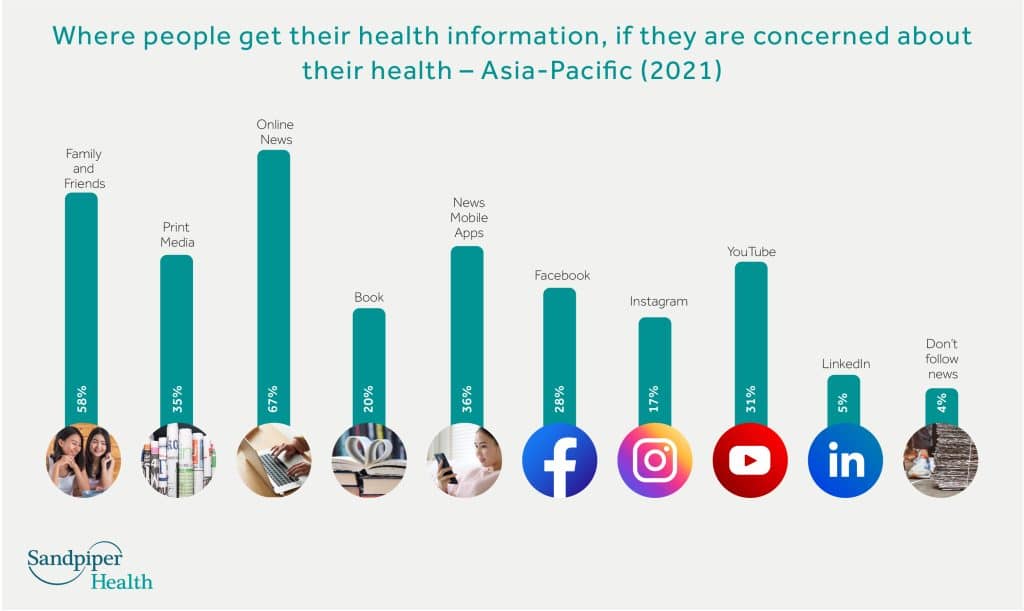 Online news sites were the top source of health information for survey respondents in eight out of the 11 surveyed territories. At least three in four people in Malaysia, the Philippines and Thailand tend to rely on online news for their source of information. However, the findings showed relatively low reliance on traditional sources of news such as newspapers, particularly in high income territories like Australia (5%), Hong Kong (6%) and Japan (6%).
This has remained consistent with our survey from 2019, where online news sites as well as social media, were the main sources of health information for people concerned about specific symptoms.
According to the Reuters Digital News report, which surveyed people at the start of the year in 2021, trust in news media on a global level, grew on average by six percentage points in the wake of the COVID-19 pandemic. This could be because news coverage was more fact-based and straightforward especially when sharing COVID-19 updates.
What this means for healthcare brands and organisations: It is crucial to engage trusted media outlets to share accurate and timely information. Many trusted media outlets now have multiple platforms – from websites to multiple social media platforms and newsletters. It is imperative to build strong relationships with trusted media outlets and work closely with them to ensure that the right information is shared on these platforms. Aside from this, healthcare brands and organisations also have a responsibility to ensure that trusted health resources remain easily accessible online.
Low trust in social media platforms for news, although people still use social media platforms for health information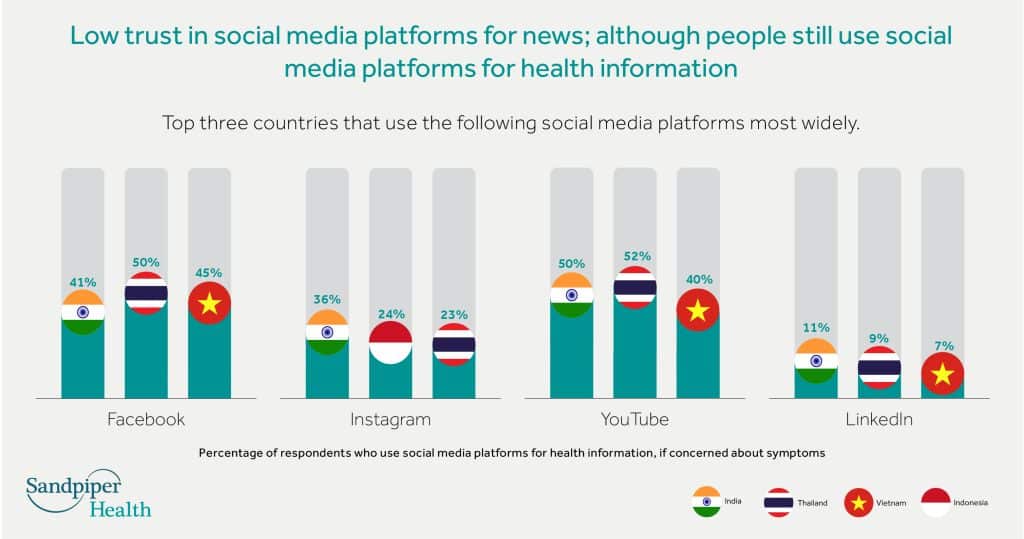 Trust in news on social media remains lower than the trust news media itself, at 24% globally.
When it came to the major social media platforms such as Facebook, Instagram, YouTube, they were the platforms that were most widely used when people were concerned about symptoms, in Thailand, followed by Vietnam and India. This is even as Facebook is still seen as the platform that is most concerning for COVID-19 misinformation, especially in countries like the Philippines.
What this means for healthcare brands and organisations: It is important to build a strong and consistent presence online, especially on relevant social media channels in the respective markets.
For example, ensuring to leverage Facebook and YouTube in markets that are widely used, including Thailand, to share timely and accurate updates.

Family and friends play key roles in sharing health information
Our survey also found that family and friends, or word of mouth, also plays an important role in information gathering for people in Asia Pacific. People in India, Indonesia and the Philippines tend to rely on family and friends more than in other territories surveyed, with more than 70% selecting it as a significant source of information.

What this means for healthcare brands and organisations: Proven behavioural science principles, such as the "Messenger Effect", has shown that people are more likely to believe messages coming from people they like and trust. This means that building credibility and rapport is incredibly important.
One way to do is by working with trusted voices such as respected healthcare professionals, key opinion leaders in the healthcare space, government officials, as well as influencers to share trusted health information.

Concerns about fake news rise; alongside an increase in confidence in determining whether medical advice online can be trusted

90% of respondents in all the markets surveyed were concerned/ very concerned about the level of fake news and unqualified medical advice online, a rise of 3% from 2019. More specifically, people between the ages of 18 to 29, and those 60-64 years old were the most concerned.

Across the territories, Australia and China reported increases in mistrust and concerns about fake news from 2019. Malaysia and Hong Kong were exceptions that saw a slight dip from 2019. This is potentially a reflection on the political situation facing Hong Kong in 2019. Nearly 100% of respondents in the Philippines and Vietnam mistrusted news on social media in 2021.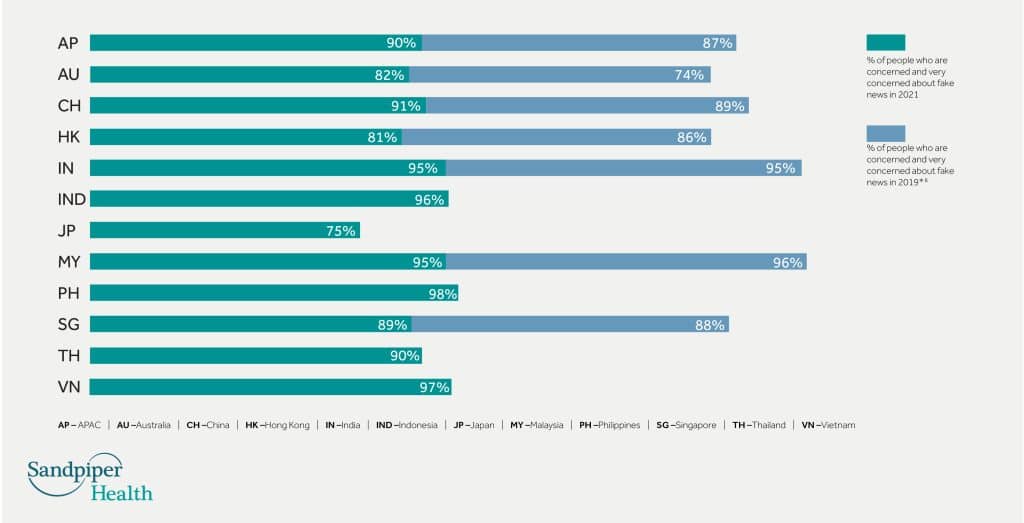 Confidence in identifying trustworthy and questionable sources
Even though people were concerned about the amount of fake news on social media, they had confidence in telling the difference between medical advice that should and shouldn't be trusted. People in Thailand, Hong Kong and India were the most confident, out of all the markets surveyed.
Differences in accessing health information across age groups and gender
Across all markets, more males than females were confident in telling the difference between medical advice that should and shouldn't be trusted, most of the time.
Across age groups, the youngest age group surveyed – people aged 18-24 years – tended to rely on friends and family for their health information, in addition to online news sites and social media platforms such as Instagram and YouTube. This is congruent with findings from The Reuters Digital News Report, where the use of social media for news remains strong, especially with younger people and those with lower levels of education, across the globe.
Conclusion
In summary, these findings have strong implications on patient engagement and education programmes as they no longer rely on healthcare professionals alone for their healthcare information.
It is key to understand how people access and process health information and make decisions. Together, we can empower people with the knowledge and skills to get the information they need to lead healthy lives.
To find out more about developing effective communications strategies to engage and educate patients, contact the team at Sandpiper Health. We work right across the Asia-Pacific and our team has in-depth insights into the health and communication challenges facing the industry right across the region.
---
You may also like: