Sandpiper Grows Energy, Environment and ESG Team in Singapore with Four New Appointments
April 2022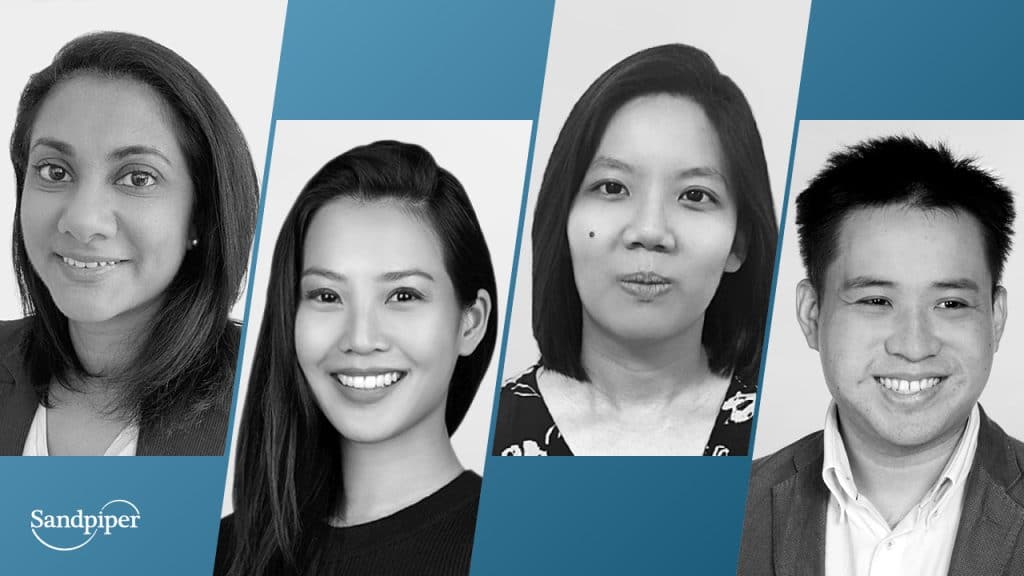 Following significant new appointments and growth of existing client mandates across Asia Pacific, Sandpiper has announced four new appointments to its specialist Energy, Environment and ESG practice team based in Singapore this month.
The team will report to practice leads COO, Kelly Johnston and Director, Genevieve Chow, and work closely with other specialist team members based in Singapore, Australia, China, Hong Kong, and New Zealand – including Director, ESG and Sustainability, Julia Walker.
Natalia Hausjah has nine years of experience in sustainability advisory, ESG market research, communications and marketing roles based in Singapore, Australia and Indonesia. She joins as a Senior Account Manager following Asia Pacific sustainability leadership positions with The Barton Partnership, Neste, and Sintesa Group. Natalia is certified as an auditor for International Sustainability & Carbon (ISCC) and Social Accountability International (SA800) and holds a Master of Science in Carbon Management.
Reena Mavjee also joins Sandpiper as a Senior Account Manager. Prior to Sandpiper, Reena was an advisor to ESG and climate data platform, Equilibrium World. She has also considerable experience in investor relations, financial communications, and equity research and analyst roles both as a consultant and in-house for Credit Agricole, Investec Securities, and Mergermarket in London. Reena is certified in ESG Investing through the CFA Society UK and holds a Certificate in Business Sustainability Management with the University of Cambridge.
Jill Tan and Samuel Tan have been appointed as Senior Account Executives. Jill joins from the Singapore Environment Council where she worked in the communications team. Prior to this, she worked for the Singapore Chemical Industry Council (SCIC) where she oversaw the implementation of stakeholder engagement across the plastics value chain to support Singapore's transition towards a circular economy for plastics. Samuel joins from another communications consultancy where he focused on sustainability communications, specifically in relation to the food, agricultural and nutrition sectors.
Emma Smith, Chief Executive Officer, Sandpiper, said: "I am pleased to welcome our new team members. With ESG and sustainability credentials increasingly fundamental to reputation management, it is little surprise that our industry is seeing enormous growth in demand for services in this area. We are proud to be an early leader in this area in Asia Pacific and we are committed to continuing to invest in specialist talent to help our clients build meaningful ESG and sustainability focused programmes tailored for the region."
Kelly Johnston, Chief Operating Officer, Sandpiper, said: "Topics such as climate change and decarbonisation are simply too big for any company or industry to ignore, and that includes our own industry. In recruiting diverse and specialist talent for our Energy, Environment and ESG practice, we want to help more clients in Asia Pacific to achieve meaningful and effective ESG and sustainability strategies and communications. We already see that communicators have the passion and enthusiasm to make a difference around sustainability challenges and armed with the right knowledge, tools, and support they can be game changers in any organisation."
Genevieve Chow, Director, Sandpiper, said: "The confluence of wide-ranging environmental, governance, social, and inclusion issues has thrust sustainability to the top of corporate agendas. Organisations need impactful strategies and programmes that allow them to demonstrate their actions and commitment to achieving sustainability goals to all stakeholders. We are excited to strengthen our ESG and sustainability offering with the additions to our growing team of specialists, who will enable us to provide client solutions that are tailored to key sectors and the unique market needs across Asia Pacific."
Sandpiper's dedicated Energy, Environment and ESG practice works with leading international and regional organisational brands across a range of sectors including energy, financial, food & agriculture, healthcare, and technology providing specialist advisory in ESG and sustainability strategy and integrated communications.

---
You may also like: