Outcomes of China National People's Congress 2022 (Part 2) – Business Opportunities
April 2022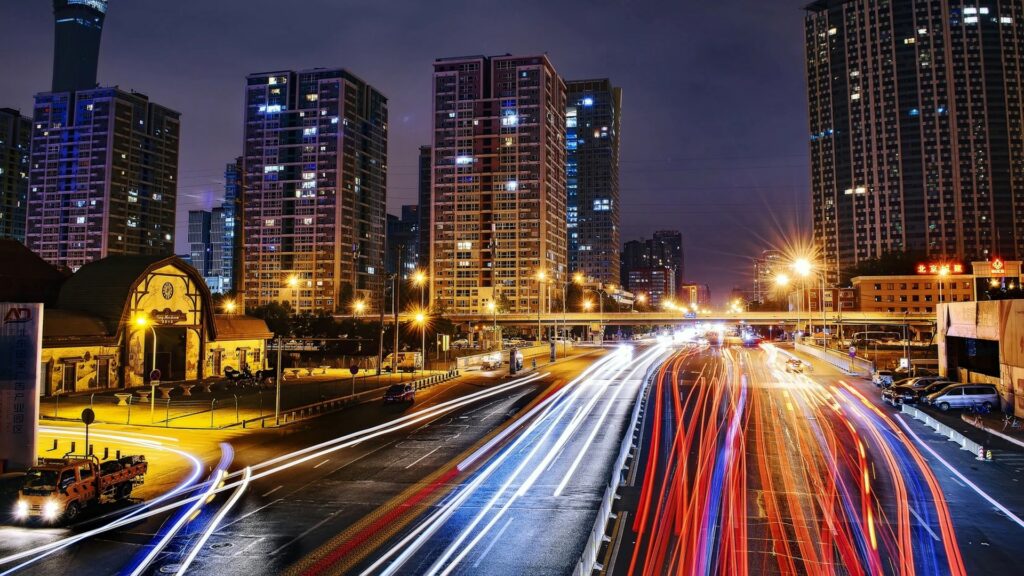 On 31st March, Sandpiper's Public Affairs team hosted a webinar on "Outcomes of China National People's Congress 2022". The guest speakers, John Russell and Serena Cui shared with attendees deep insights on China's latest political and socio-economic policy development and the implications for businesses across the Asia Pacific.
---
Despite ongoing domestic and external uncertainties, during the "Two Sessions" 2022, China announced a series of policy backstops to stabilise growth, generate confidence, and embrace expectations. John and Serena shared with the webinar audiences the business opportunities in a range of sectors as the outcomes of the "Two Sessions" 2022.
Energy and Environment
During the "Two Sessions", President Xi stressed that it is necessary to pursue coordination between decarbonization, pollution control, ecological conservation, and economic growth.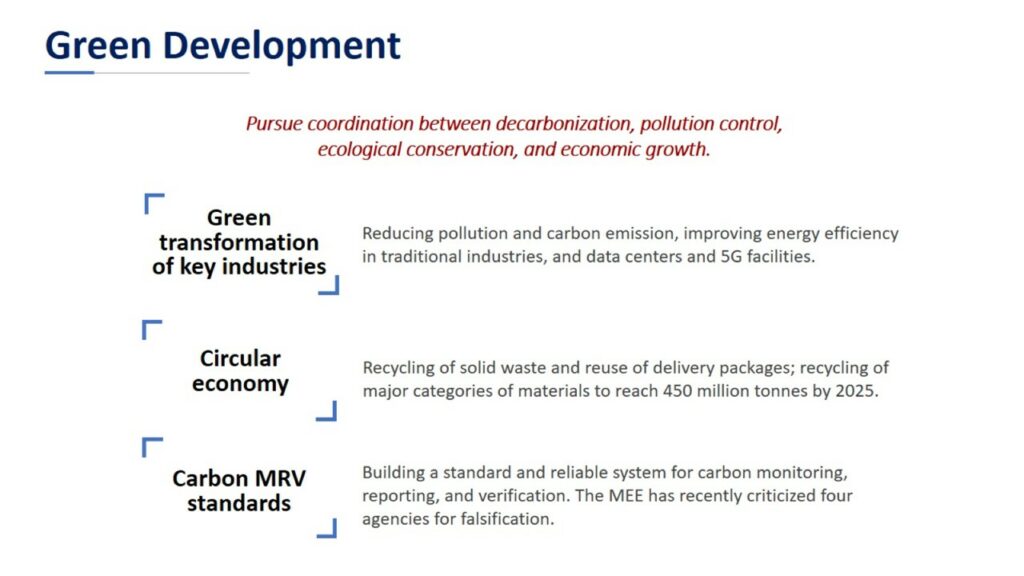 Energy efficiency improvements and clean production upgrading of industries will continue to be implemented. Key industries include the "high energy consumption, high pollutant emission" ("the two highs") industries – coal-fired power generation, steel and iron, nonferrous metallurgy, construction materials, petroleum, and petrochemicals. Data centres and 5G facilities are other key areas of China's green transformation agenda this year.
The government work agenda this year also includes measures for a circular economy, including the recycling of solid waste, in particular scrap metals, scrap cars, used household appliances, plastics, and kitchen waste. The National Development and Reform Commission (NDRC) will also implement the pilot program for reusing delivery packages.
Several proposals made by political parties and renowned business leaders address the topic of building a standard and reliable system for carbon monitoring, reporting, and verification (MRV). NDRC includes this issue in its agenda for 2022.
Healthcare
The government aimed to turn healthcare into a major support pillar of China's national social welfare system and to respond to China's ageing population and declining birth rate.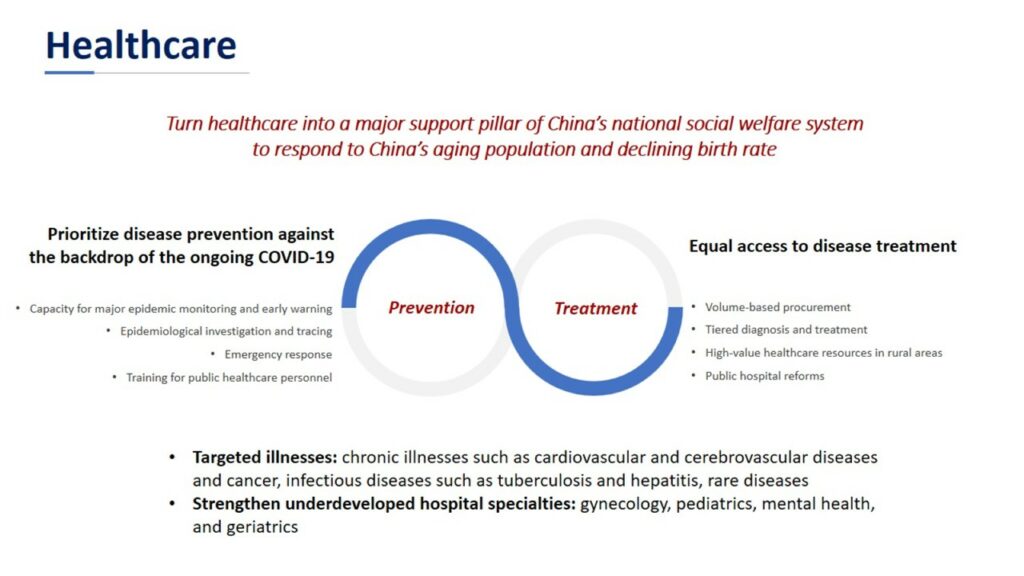 Against the backdrop of the ongoing COVID-19 pandemic, the government work report prioritized disease prevention as an important part of the Healthy China Initiative. The central government will continue to improve China's disease prevention and control network, improve its capacity for major epidemic monitoring and early warning, epidemiological investigation and tracing, and emergency response, and continue to train public healthcare personnel.
Premier Li Keqiang emphasized the priority of multiple healthcare tasks to provide equal access to disease treatment, in areas of volume-based procurement, public hospital reforms, equal opportunity distribution of high-value healthcare resources especially in rural areas, and implementation of tiered diagnosis and treatment.
Financial Market
Supportive fiscal policies and the higher-than-expected GDP target should ease concerns around growth and the extent of policy support. This could result in attractive opportunities for investors as several expected stimulus measures gradually take effect.
The NPC unveiled an overall encouraging message to the market with strong fiscal support and a willingness to use more policy backstops to stabilize growth.
Overall encouraging tone, though banks and internet platforms may face challenges

The SME and manufacturing sectors received the strongest policy support via lower taxes, fees and targeted bank lending.
The government guided financial institutions and internet platforms with larger SME customer exposure to provide greater support to the SMEs, which may present challenges to those companies.

Where could the additional fiscal spending go?

The government paper called for accelerated infrastructure construction projects in areas such as hydraulic projects, transport and urban pipeline revamp, which should somewhat help with the construction machinery and materials sector.
There was so continued focus on revamping the utility network via new renewable projects and upgrades to urban pipelines and the electricity grid.
We believe the NPC meeting is positive for the manufacturing and renewable industries while slightly negative for the banks and internet sectors which may need to give away some of their profit margins to support the SME sector.
Technology
One of the main tasks of the government's 2022 agenda is to build the necessary infrastructure to advance the "digital China" blueprint, in particular, to provide the Chinese economy with sufficient digitalized tools for sustainable and high-quality development. This task includes a series of large-scale ICT projects, such as 5G connection and industrial application, data centre hubs, new internet exchange points, and internet backbone direct connection points.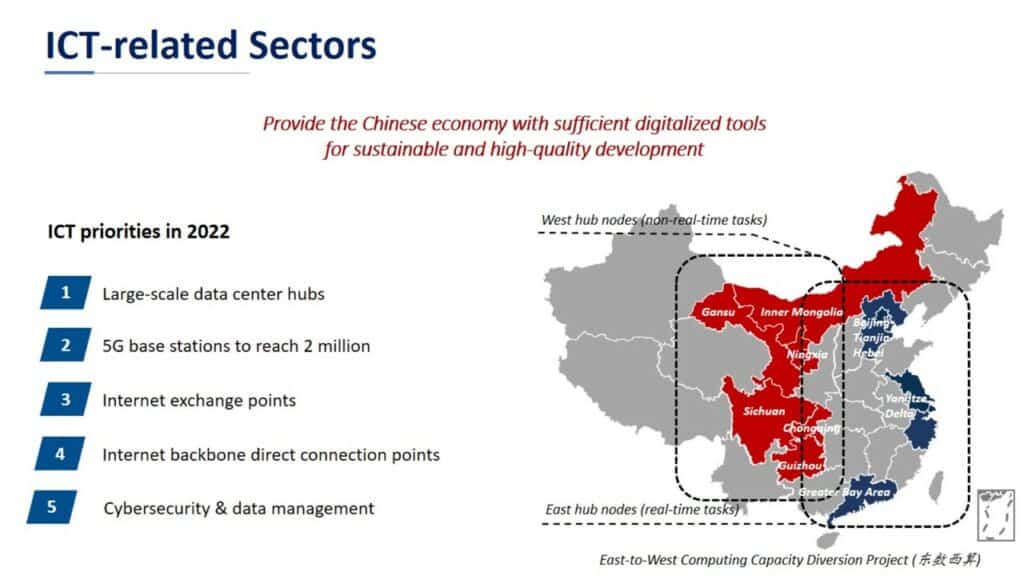 Among these projects, the most ambitious and most discussed is the East-to-West Computing Capacity Diversion Project. The project aims to optimize the distribution of China's computing capacities between Eastern China which has a high demand for computing but is limited in natural resources such as land and renewable energy, and Western China which has the natural advantage of green and cheap energy. The data centre clusters in Western China will mainly support non-real-time computing tasks nationwide.
Social Safety Net
People's well-being is prioritized as social safety nets for families, children and the elderly. While initiatives such as "Common Prosperity" have been temporarily sidelined, the GWR has introduced plans for the expansion of social services and for relieving costs for households, with a strong focus on senior care, social welfare, education, safety of women and children, and ESG initiatives.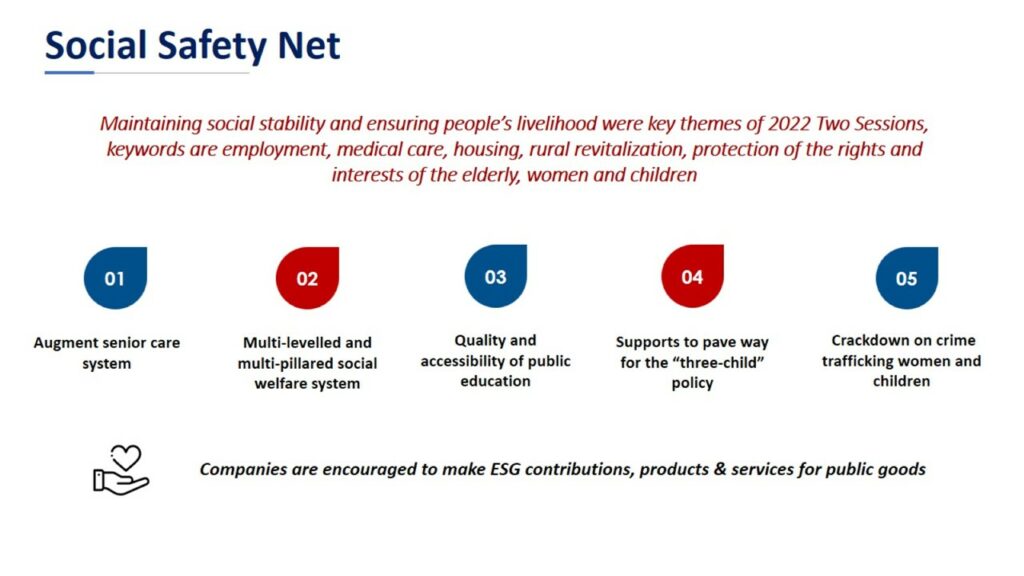 ---
In the next article, we will review the last section of the webinar "Implications & Recommendations for Multinational Corporations" as presented by John and Serena. Stay tuned for more.
Sandpiper is your partner to track China's latest policy developments across sectors, to inform your business strategy and planning. Should you desire analysis and insights of the "Two Sessions", wish to track the development of the policies, or require an introduction to China's policy making process, please contact us at Chinapolicy@sandpipercomms.com
You may also like: