Sandpiper Healthcare Tracker – health as a priority and its impact on comms 
7 March 2022
Great Healthcare Expectations of the Asia Pacific Public
Since the beginning of 2020, we've seen health and well-being take centre stage in the daily news cycle, in political debate and even during casual chats with friends and family, so it will come as no surprise to learn that people in Asia Pacific are putting greater priority on healthcare than ever before. In fact, according to the latest findings of the Sandpiper Healthcare Tracker Report, in 10 out of 11 territories, healthcare is seen as a top-three priority alongside education and the economy and jobs, showing a shift from 2019 when just five of the same territories ranked it in the top three.
Industry Key to a Multifaceted Approach to Healthcare
With health so high up on the agenda across the region, now is the time for those involved in the industry to step up and take the opportunity to push for better healthcare for all. Despite the prioritisation of healthcare, one-third of Asia Pacific respondents in the study were dissatisfied with the healthcare services provided in their territory, which means that there is still much room for improvement. This dissatisfaction is like due in part to the strain that the pandemic has put many healthcare systems under during the battle against COVID-19, but even here in Hong Kong, where until recently we had managed to keep COVID-19 cases to a minimum, satisfaction in public health services is low, reflecting a general trend in many of the territories.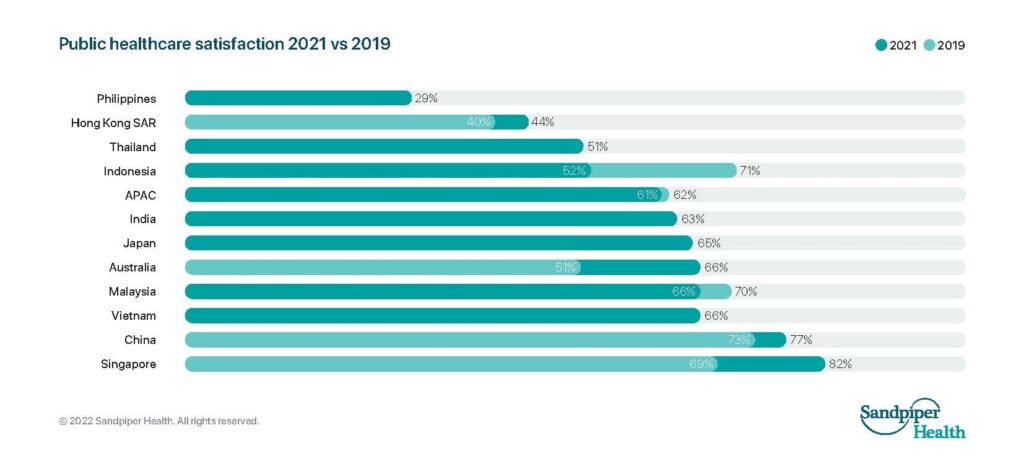 It's clear from the COVID-19 pandemic response that no one party can tackle the challenges of improving healthcare services in isolation. Governments, industry, healthcare institutions and the greatest minds in science have all come together to collaborate in the fight against COVID-19 in a way never seen before, and with a speed that is unusual for any of these parties.
According to the Sandpiper Healthcare Tracker Report, almost 60% of respondents recognised pharmaceutical companies as a major player in the fight against the pandemic, a positive sign for the industry. With many previously unknown brands suddenly becoming household names, now is the time for pharmaceutical companies to capitalise on that growing reputation and trust. The pharmaceutical industry has long played a role in developing healthcare solutions, sitting alongside public bodies, and providing their expertise and support. Beyond this, they should elevate the public's understanding of their role in the healthcare ecosystem through communications and thought leadership activities and seek new opportunities for collaboration that align with the gaps and needs of the general public.
Arming People with the Right Information
Although the prioritisation of health has created a positive sea change in many respects, the downside is the increase of misinformation and misunderstanding, and the undermining of scientific experts. We have seen the rise of the armchair expert, with more people choosing to source their healthcare information from Dr Google instead of consulting their doctor.
Communications from trusted sources have an important role to play in combatting the proliferation of misleading information. Sandpiper Health has been supporting the fight against misinformation and helping to educate people across Asia about the importance of vaccination in the fight against COVID-19 through our work with key players in the industry, from vaccine manufacturers through to NGOs.
Heightened public trust in the pharmaceutical industry represents an opportunity to build campaigns and programmes to educate and engage the general public. This should be done in collaboration with other stakeholders in the healthcare industry, including those on the frontlines of patient care.
Healthcare systems in the region must also work to reframe traditional beliefs about the roles of doctors and patients, acknowledge the latter's desire to play an active role in care decision-making, and arm them with the right information to make informed choices.
New Meaning and Impact on Healthcare Communications
From a healthcare communications point of view, the shift in focus and importance of our work has been interesting to observe as health has become a global focus. In the early days of the pandemic, we scrambled alongside clients to pull together internal and external communications to reassure and inform colleagues, customers, and the public across Asia Pacific, as we experienced the first waves of COVID-19. We then pivoted to supporting global vaccines manufacturers and NGOs on campaigns to drive understanding, acceptance and uptake of vaccines while engaging in a battle of scientific fact over rumour and misinformation. In the present, we are working hard to overcome COVID-19 fatigue in some territories, while ensuring we satisfy the need for relevant updates from our clients in Hong Kong, where we are currently deep into a fifth wave of COVID-19.
Changing Gears to Keep Up with Trends
We've also seen a change in the pace of our work, with pharmaceutical clients unable to plan activities in the meticulous and traditionally slow-paced manner that is generally an industry standard. With a greater focus on staying abreast of trending topics and sharing insights and thought leadership at speed, we've adopted new ways of working that allow us to support clients in these ways whilst keeping an eye on adherence to stringent internal and industry regulations.
We've also observed a significant uptick in employee well-being and internal communications campaigns, as clients seek to keep their people connected in a time when life is truly disconnected. Clients across a broad spectrum of industries, including those outside the healthcare space, have sought to share their expertise and articulate their position in relation to health and well-being.
Health is likely to continue to be a priority for the months to come but we cannot know when that bubble might burst, and interest may wane. We currently have a unique opportunity to ensure that communications address the current high level of interest and to build towards a healthier future by working collaboratively to empower people with greater awareness and skills to maintain and improve their health.
You may also like: