Trends Shaping ESG Communications in Asia Pacific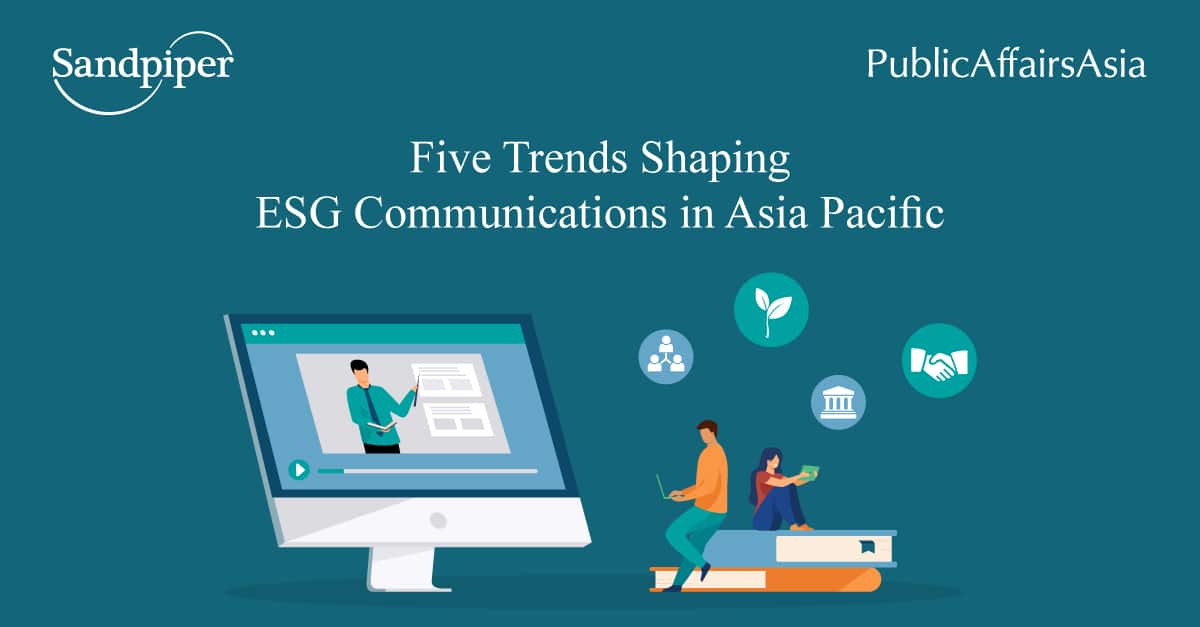 It is inarguable that ESG and sustainability are an increasing focus for companies across Asia Pacific, and this has been accelerated this year with COVID-19.
For many communicators this has raised new challenges as they look to help their companies navigate this complex, and what is for most, a foreign space.
To better understand the challenges that inhouse communicators are facing we partnered with PublicAffairsAsia to survey communications, public affairs, investor relations, and sustainability leaders across the region.
The findings are captured in our report titled Five Trends Shaping ESG Communications in Asia Pacific.
Below are the five trends our report identifies. A virtual panel discussion is also available where the report is discussed by industry leaders.
Trend One: Style over substance persists:
With a growing focus on ESG performance within organisations, communications teams are experiencing more pressure to promote their company's ESG achievements, often to the point of over-promotion. In fact, 60% of communicators said they feel pressure to overpromote achievements, with 1 in 5 saying pressure has recently increased. As a result, while ESG and sustainability messaging is likely to be incorporated as part of company narratives, messaging, and purpose; it is less likely to be considered in a company's value proposition or business strategy.
Trend Two: Change seen as someone else's role:
With a high rate of uncertainty among communicators around their companies' plans to invest in ESG initiatives, this suggests that communications teams are not plugged into or playing an active role in business conversations in this area. Additionally, most communicators see the CEO's Office and Boards as the organisation's rightful and most powerful sustainability champions ahead of themselves.
Trend Three: There's a will but not a way:
Almost all (92%) feel that having a strong, differentiated sustainability story can drive better commercial performance for their organisation. However, while half feel they do have a differentiated sustainability story currently, half don't, or are unsure if they do. Nearly two thirds (64%) feel that it is difficult for their sustainability story to stand out or are unsure how to do this.
Trend Four: Ignorance is risk:
Most communicators believe that their ESG performance is not negatively impacting their stakeholder relationships, yet most also lack intelligence about how they are measuring up against competitors in areas such as ESG disclosure, sustainability performance, and their sustainability narrative and positioning. Additionally, traditional views still persist where ESG is seen as largely an item for Government, NGO and Investor conversations, with less emphasis on customers, media, influencers as well as current and potential employees.
Trend Five: Missing the bigger picture:
Communicators are failing to connect their sustainability story to global sustainability agendas, with close to half not communicating their company's contributions to the UN's Sustainable Development Goals (SDGs) and 77% failing to show progress against the Paris Agreement in their ESG and sustainability communications.
You may also like: