Outcomes of China National People's Congress 2022 (Part I) – Uncertainties & Government Strategies
April 2022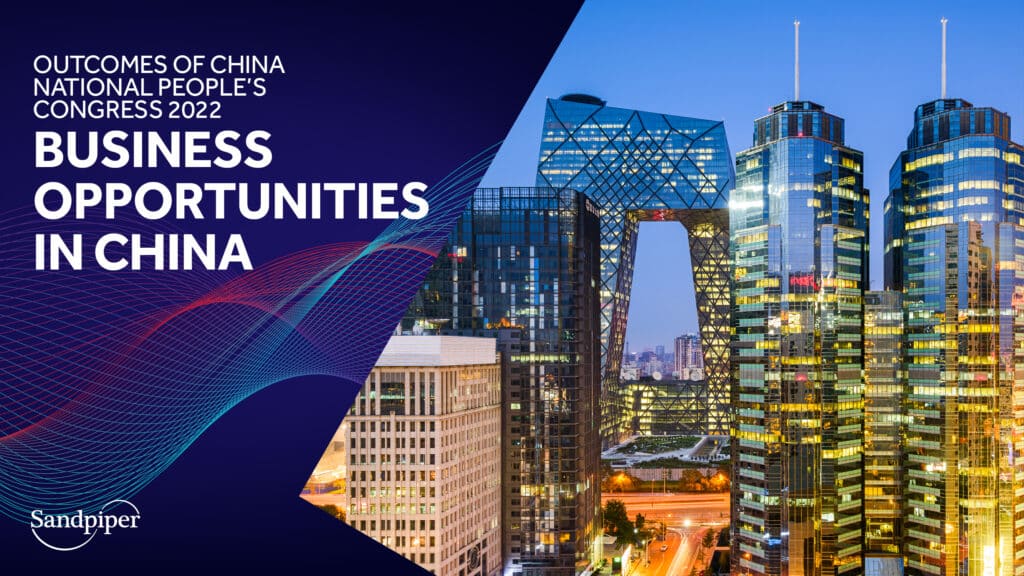 On 31st March, Sandpiper's Public Affairs team hosted a webinar on "Outcomes of China National People's Congress 2022". The guest speakers, John Russell and Serena Cui shared with attendees deep insights on China's latest political and socio-economic policy development and the implications for businesses across the Asia Pacific.
---
Amid ongoing global economic and geopolitical disruptions, understanding the political and regulatory landscape has never been more critical to ensuring business success in China.

2022 will be a significant transitional year for China and its political leaders.

The National People's Congress (NPC), China's top legislature, and the Chinese People's Political Consultative Conference (CPPCC), a "multi-party" advisory organ, have concluded on 11th March. This year's "Two Sessions" precede the Communist Party of China's 20th National Congress in October-November. Major government and policy changes are expected.
What's at stake for the Asia Pacific region?
What's at stake for your business?
How to optimise your strategic communications in China based on these developments?
On 31st March, Sandpiper's Public Affairs team hosted a webinar on "Outcomes of China's National People's Congress 2022". The guest speakers, John Russell and Serena Cui shared with attendees deep insights on China's latest political and socio-economic policy development and the implications for businesses across the Asia Pacific.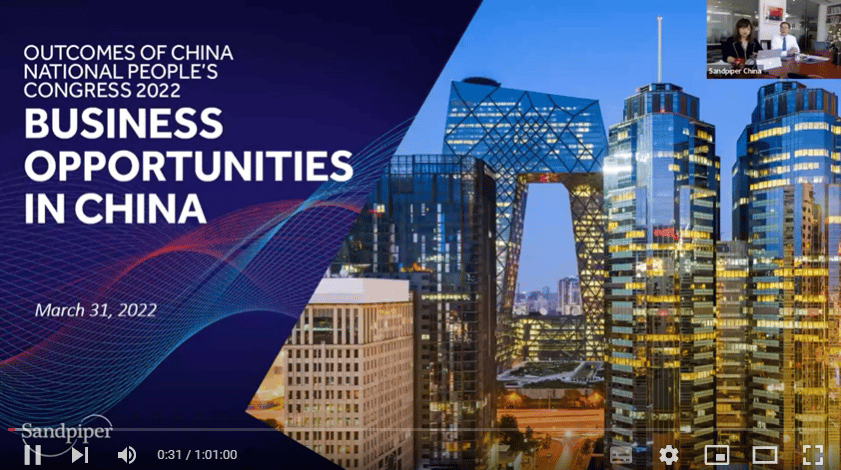 In this article and the following two articles, we will delve into some of the insights covered in the webinar:
Uncertainties & government strategies
Business opportunities
Implications for multinational corporations
---
Uncertainties
Dynamic Zero-COVID
COVID-19 containment measures remained the key concern of Chinese policymakers. The NPC meeting affirmed the effectiveness of preventing imported cases and internal rebounds and the overall guidance of "dynamic zero-COVID policy". The Government Work Report also emphasized the importance of accelerating vaccines and treatment research. However, authorities would try their best to keep normal economic production and guarantee supply chain safety. This entails strengthening pandemic control in port cities and transport hubs.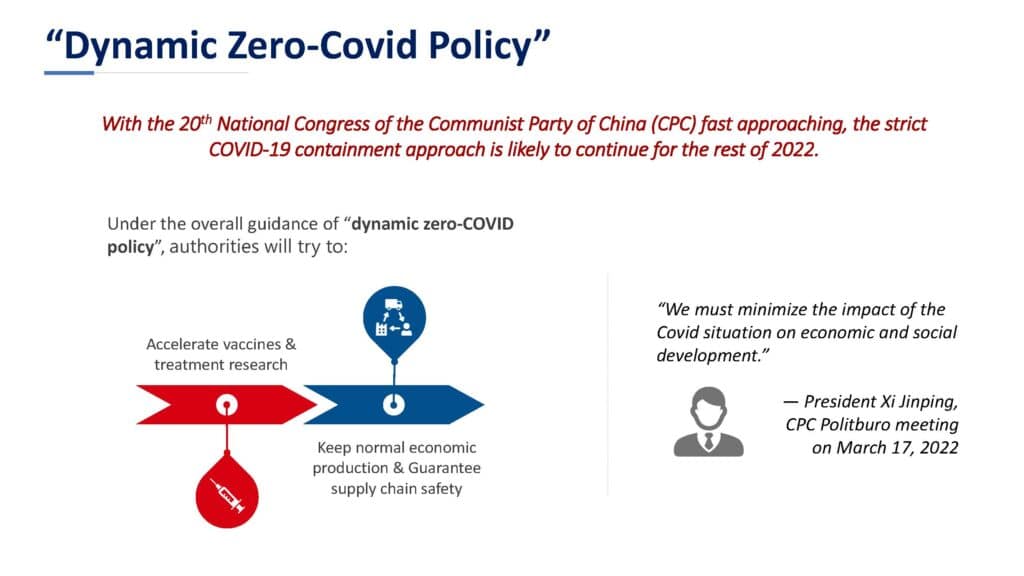 Immediately after the conclusion of the NPC meetings, a new wave of the Omicron variant has spread to 28 provinces, with multiple cities including Shenzhen Shanghai being locked down. Tens of thousands of asymptomatic infection cases had appeared during this time.
At a CPC Politburo meeting on March 17, President Xi stressed the need for coordination between pandemic control and economic development required to implement effective control measures with minimum cost. While the government is determined to completely control the coronavirus, it will take a longer time to see if the current approach remains effective or unchanged.
Russia-Ukraine War
The Russia-Ukraine war had contributed to international commodity prices inflation for grain, raw materials, and energy within three weeks since the war outbroke on March 24.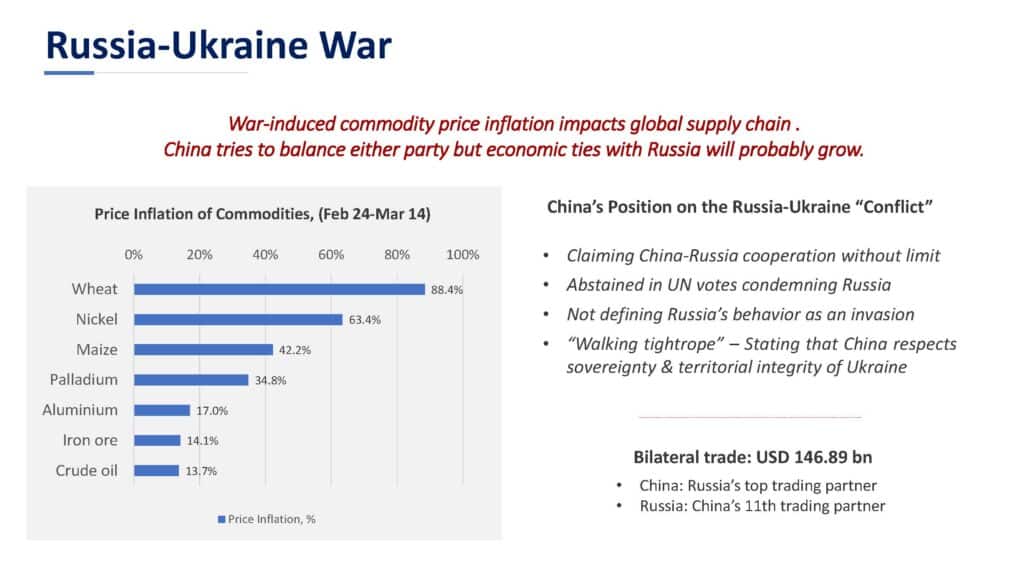 On multiple occasions, China claimed an "objective and impartial" position on the conflict, calling for respect for Ukraine's sovereignty and territorial integrity according to the UN Charter, and accommodating Russia's security concerns. However, it abstained in several UN votes condemning Russia and has never defined Russia's military operation as an invasion. Moreover, China has provided Ukraine with tens of millions of RMB humanitarian assistance.
In 2021, bilateral trade between China and Russia reached USD 146.89 billion. China is Russia's top trading partner in terms of country/region, while Russia only ranked 11th in China.
China-US Relations
The China-US relationship remains contentious with few prospects for overall improvement this year, though bilateral trade in 2021 expanded by 28.7%.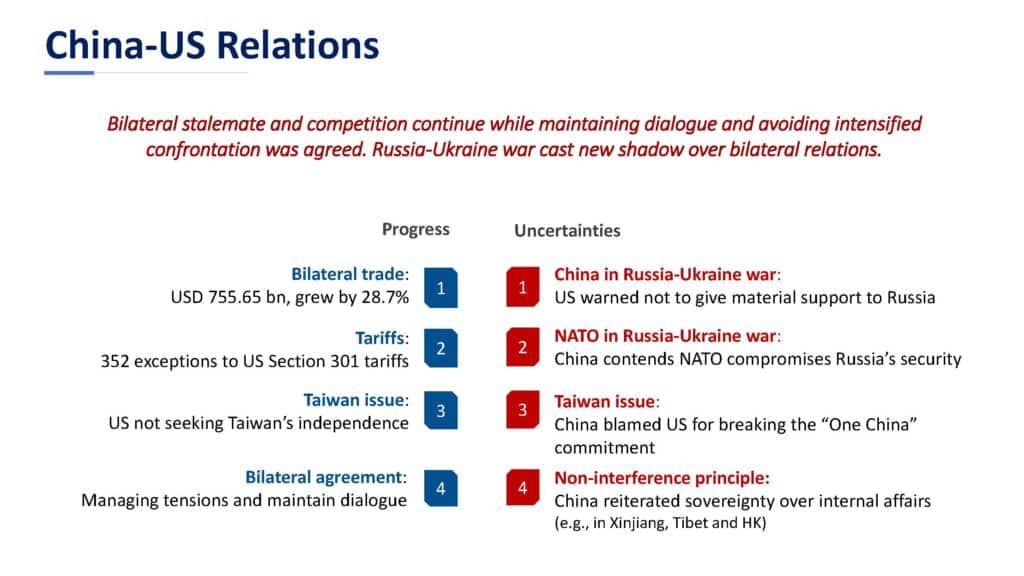 The 2022 GWR reiterated China's pursuit of an independent foreign policy predicated on peace and a new type of international relations.
In March, the US and China held one high-level talk between high-ranking officials in Rome and a virtual meeting between President Xi and Biden. Both parties made some consensus on dialogue mechanisms and maintaining the status quo of Taiwan. Divergence in the human rights issue, in Xinjiang, Tibet and Hong Kong made no progress.
More importantly, the Russia-Ukraine war poised a new challenge for China-US relations, as the US and European countries increasingly perceive China to be enabling Russia's military operation in Ukraine, threatening economic consequences if Chinese entities engage in sanction-evading practices.
Government Strategies
Boosting Consumption
China continues to incentivize consumption to see that domestic demand plays a bigger role in driving economic growth, and offsetting the economic impacts brought by the looming risk of pandemic resurgence and global conflict. Efforts in this regard will be made in four areas this year: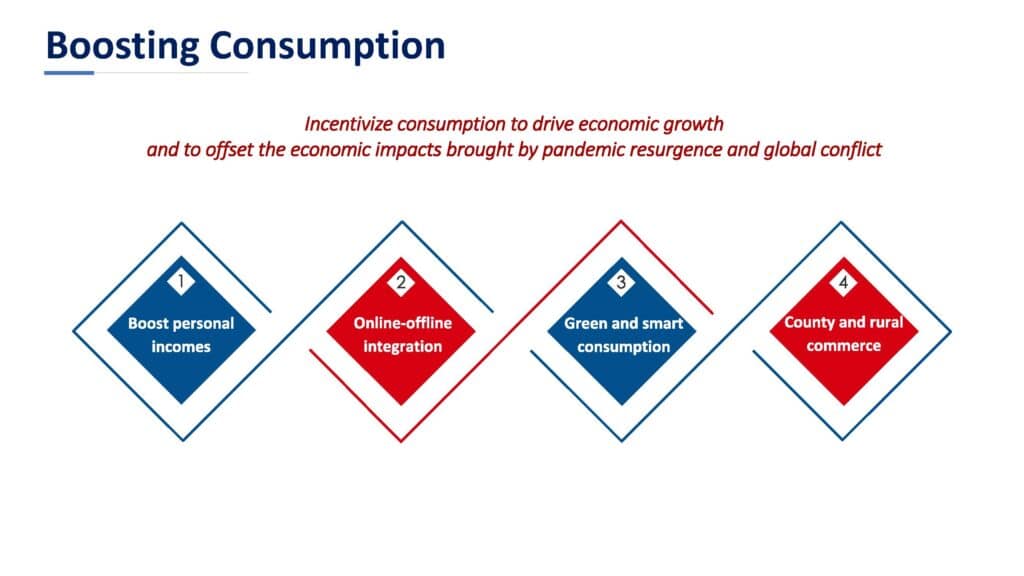 Boost personal incomes: to increase people's spending power, the government work report called for increasing incomes and improving income distribution, as well as providing better social infrastructure at a community level to reduce the cost of people's living.
Integration of online and offline consumption: central and local Two Sessions repeatedly mentioned live streaming e-commerce, platform economy, sharing economy, etc. to become the new consumption pulling force.
Green and smart consumption: China will continue to support the purchase of new energy vehicles and encourage local governments to promote spending on green and smart home appliances in rural areas, as well as the replacement of old home appliances.
County and rural commerce: China will promote the development of county-level commercial systems and develop e-commerce and express delivery services in rural areas.
Stabilizing Trade & Investment
Higher standard "opening up", stable growth of foreign trade and investment remain key tasks pertinent to international economic cooperation.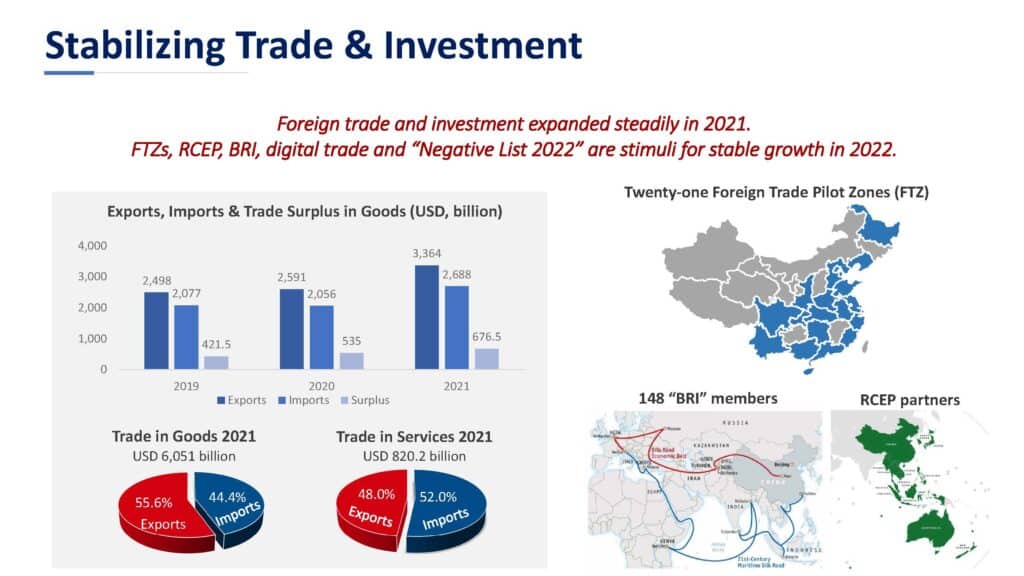 In order to attract foreign direct investment (FDI), the GWR requires thorough implementation of the Negative List for FDI market access and improvement in national treatment for all foreign-funded enterprises.
The development of free trade zones (FTZs) is encouraged to unleash more potential and opportunities for foreign investors. Moreover, the government is helping trade firms make effective use of the preferential terms in the RCEP. In addition, this year marks the 10th anniversary of the establishment of the "Belt and Road Initiative" (BRI) which has been progressing well with 148 countries as partners in a variety of organisations including trade, infrastructure investment and construction. In 2021, China's trade with BRI partners accounted for 29.66 per cent of the overall volume, maintaining remarkable momentum.
Ensuring Energy Security
Responding to increased risks of a domestic economic downturn and energy supply shortages, driven by global turbulence caused by the Russia-Ukraine conflict, the Chinese government has recalibrated its policy measures during the 2022 Two Sessions regarding the energy sector.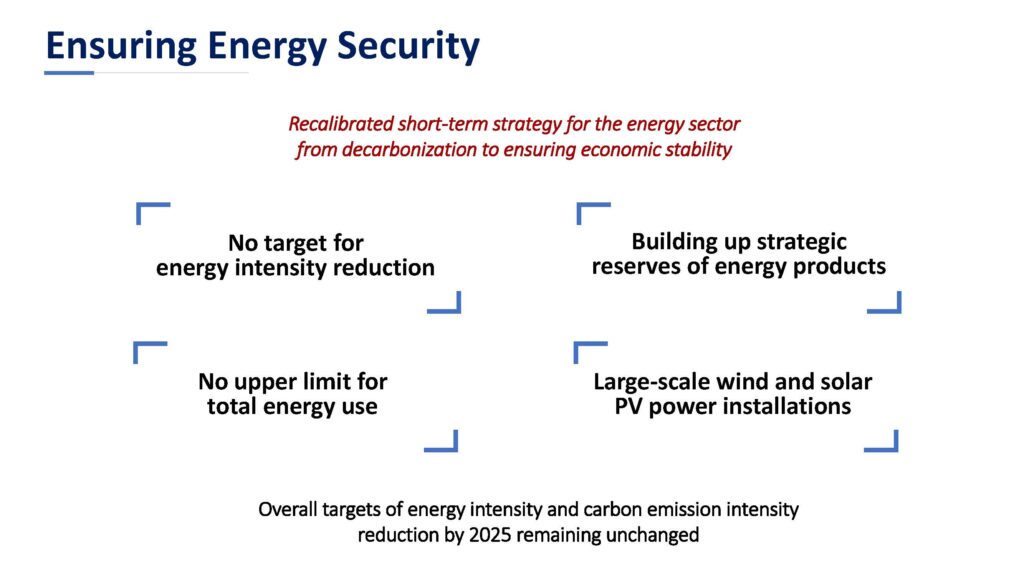 On the demand side, the government is adding more flexibility to the control of energy consumption, which was one of the factors that triggered the unprecedented government power rationing in 2021. This year's government work report set no annual target for 2022 in the reduction of energy intensity and no upper limit for total energy use. This implies a short-to-medium term action plan, with the overall 13.5 per cent reduction of energy intensity and 18 per cent reduction of carbon emission intensity targets by 2025 remaining unchanged.
On the supply side, the government work report stipulates the acceleration of exploration for petroleum, natural gas, and minerals, as well as an expansion of storage capacities for various energy products. Large-scale wind and solar PV power installations will continue to be built, particularly in desert areas.
Creating Employment
"Employment First" remains a top priority in the government's work agenda on economic, financial, and social issues. China is greatly challenged to meet the required levels for job creation in 2022. Approximately sixteen million members of the country's urban population are entering the job market this year. China will also see 10.76 million students graduate from colleges, both record-high figures. This year, the government aims to create a minimum of eleven million additional urban jobs, with thirteen million jobs serving as an optimal target for Premier Li Keqiang.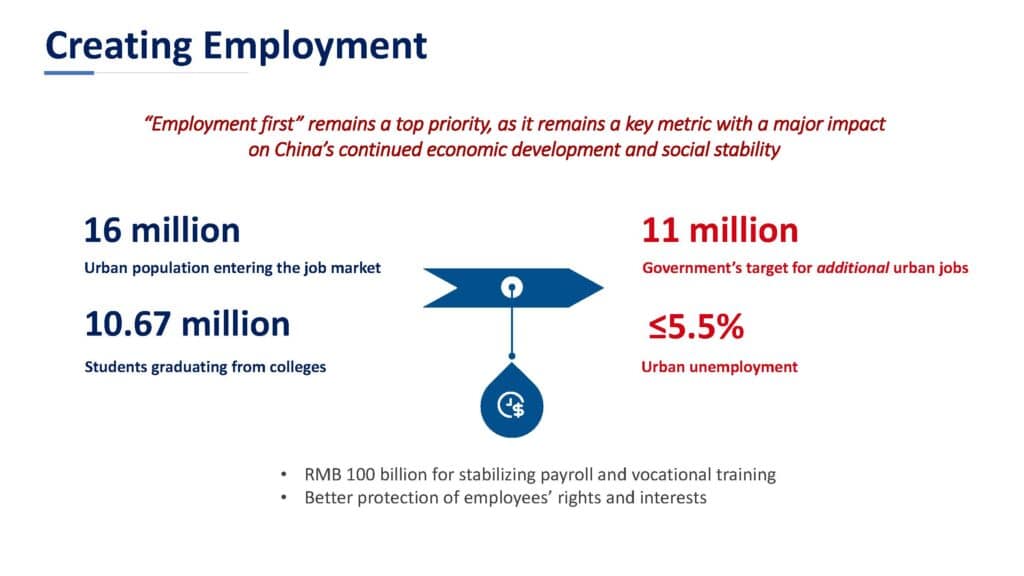 China will secure the job market primarily by allowing businesses to stabilize and recover. Support policies will be weighted more heavily toward enterprises in sectors that have been severely affected by the COVID-19 pandemic, to help them stay afloat and get through challenging times. RMB 100 billion from the unemployment insurance fund will be used to support enterprises in maintaining stable payrolls and to provide vocational training.
Stabilizing employment will also require better protection of employees' rights and interests in the workplace. President Xi called for the improvement of the social security system for those categorized under "flexible employment", referring to those who work in the gig economy such as deliverers and drivers for online car-hailing platforms. The government work report also vowed to fight against employment discrimination relating to gender, age, and educational background.
---
In the next article, we will explore further the business opportunities in the following sectors as the outcomes of the "Two Sessions". Stay tuned for more.
Energy & environment
Healthcare
Financial market
Technologies
Education
Social safety net
Sandpiper is your partner to track China's latest policy developments across sectors, to inform your business strategy and planning. Should you desire analysis and insights of the "Two Sessions", wish to track the development of the policies, or require an introduction to China's policy making process, please contact us at Chinapolicy@sandpipercomms.com
You may also like: