Building Rapport With The Chinese Media
October 4, 2021

Workplace Mental Health | Encouraging A Proactive Culture
October 11, 2021
Reputation is the bedrock on which the insurance industry is built.
Fostering trust, investing in relationships and the fundamental promise to pay claims are just some of the many aspects that impact a life insurer's reputation. However, in an age of accelerated transformation, increasing concerns around data privacy, rampant disruption and ever-evolving customer expectations, there are renewed challenges in maintaining and safeguarding reputation.
How can life insurers navigate these challenges and enhance their reputation as an industry bringing innovative solutions to help solve the world's issues? Hosted in collaboration with Eliot Partnership and Executive Strategies Group International, the second of our three-part webinar series on The Reputation of Insurance, turned the spotlight onto the importance of trust, the need to focus more on understanding customer expectations and using digital to transform the customer experience.
You may view the full recording of the session here . Watch this space for more interesting insights from our panel of industry experts.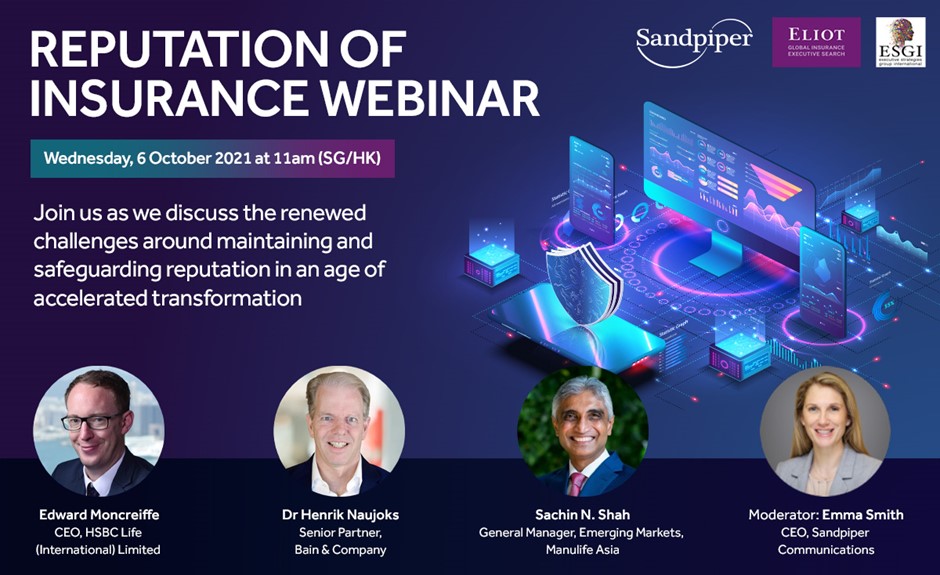 ---
Insurance. Despite the size and geographic reach of the industry, and that many of its firms are household names, the insurance sector is rarely accorded the recognition it deserves with retail consumers and institutional markets.
The COVID-19 pandemic, however, has demonstrated the bedrock function the insurance industry performs in containing risk, and in a time of crisis, affording individuals, corporates, and governments the means to prevail and recover.
One year on from the onset of COVID-19, the awareness of insurance is at an all-time high, bringing greater scrutiny and challenges for the industry. For insurers in Asia Pacific this presents both reputational pitfalls and the opportunity for the industry to be better understood.
Against this backdrop, Sandpiper Communications in collaboration with Eliot Partnership, is hosting a series of webinars on the reputation of the insurance industry, the first of which took place on 8 July.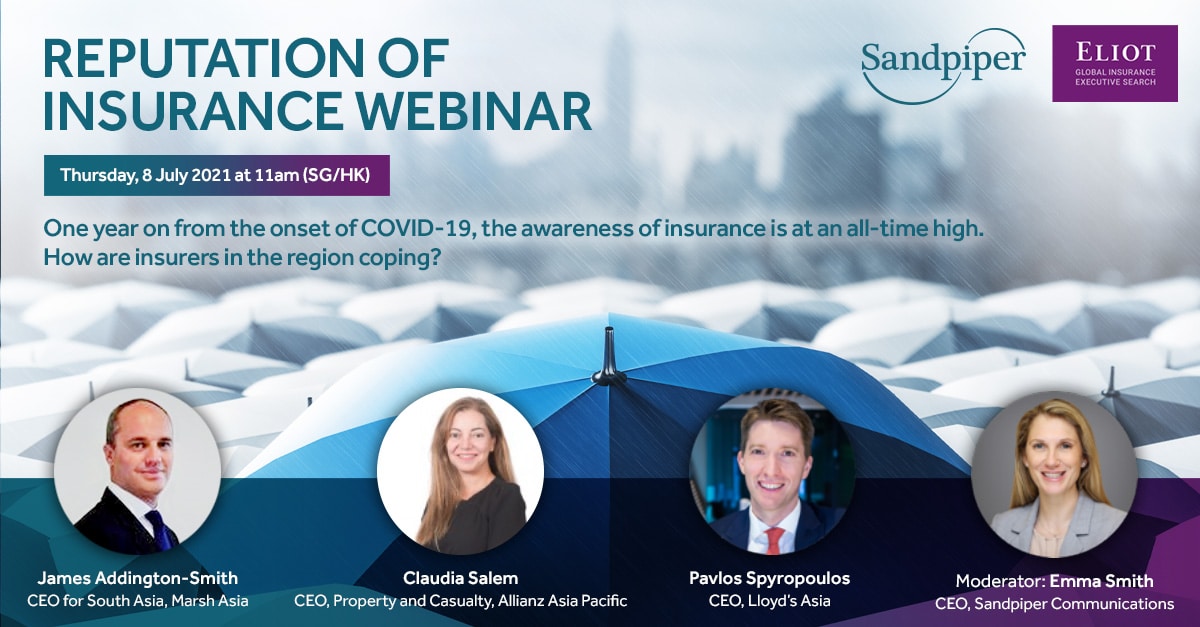 Calling on the insights of three industry experts, the question drew a spectrum of viewpoints across challenges, transitions, and opportunities.
During the session, Pavlos Spyropoulos, CEO for Lloyd's Asia, shared his thoughts about changing customer expectations and what insurers can deliver in a complex, uncertain world.
At a more fundamental level, the APAC insurance sector recognises that future risks from pandemics and climate change are likely to be more frequent. ESG policy and action sit at the centre of the industry's forward planning for risk, and Claudia Salem, CEO for P&C, Allianz Asia Pacific, highlighted the increasing priority of these issues for the region's insurers.
James Addington-Smith, CEO for Marsh South Asia, describes how companies can promote a better work life balance and introduce new digital initiatives that can attract younger talent and prepare them well for their future careers.
Watch this space for more insights from our Reputation of Insurance webinar.
Missed our last webinar? You may view the full recording of the session here.
The Reputation of Insurance webinar is the first of a three-part webinar series jointly hosted by Sandpiper Communications and Eliot Partnership. To keep up to date with our latest events and happenings, follow us on LinkedIn.
Sandpiper Communications is a strategic communications consultancy based in Asia Pacific and operating globally. Our multinational team provides deep expertise across a range of communications disciplines and industry sectors. To learn more about our insurance insights and offerings, contact our team .