The Rise of Medical Tourism in Asia Pacific
October 2023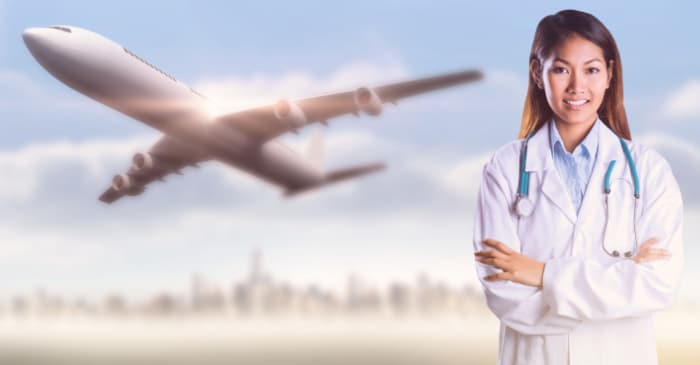 Medical tourism, a practice in which people travel abroad for medical care with better value or higher quality than in their home country, has gained significant popularity in recent years, particularly in the Asia-Pacific region. Currently valued at around USD 111.3 billion, Asia Pacific's medical tourism market size is forecasted to grow at a compound annual growth rate (CAGR) of around 15 percent until 2028.

This strong growth trajectory is based on the region's combination of advanced medical facilities, skilled healthcare professionals, and cost-effective treatment options—all of which serve to make Asia Pacific an attractive medical tourism hub. Countries like Malaysia, Thailand, Japan, and Singapore are emerging as particular leaders in this domain, providing global visitors access to high-quality and innovative healthcare. Some of Asia Pacific's territories also offer extensive and specialised elective medical treatment options, as exemplified by South Korea's beauty sector.

In this article, we explore several of Asia Pacific's popular medical tourism destinations and their key medical specialties, then taking a deeper look at current trends regarding medical tourism for elective procedures.
Medical tourism for essential treatments

The Asia Pacific region offers a variety of excellent options for medical tourism at different tiers of expense or areas of expertise, widening access to essential medical procedures and treatments. Highlights include:
Malaysia
With 1.22 million medical travellers in 2019 and a variety of accolades including "Health and Medical Tourism: Destination of the Year" at the 2020 International Medical Travel Journal (IMTJ) Medical Travel Awards, Malaysia has emerged as a prominent global hub for medical tourism. The country's ability to provide exceptional healthcare services at cost-effective rates has been a major draw for international patients, particularly those from neighbouring countries such as Indonesia.
Malaysia offers a diverse range of medical services encompassing various specialties, including cardiology, oncology, orthopaedics, fertility treatments, cosmetic surgery, and dentistry. Among these various services, Malaysia is well-known for its cardiology and fertility treatments, boasting over 33 advanced heart treatment centres, including the renowned National Heart Institute.
To enhance the experience of the growing number of medical tourists seeking high-quality care, the National Heart Institute has established its International Patient Centre (IPC). The IPC provides comprehensive services, including visa and immigration assistance, pre-departure and post-treatment coordination, secure transfer of health data, and insurance claims facilitation. Moreover, the IPC has expanded its reach by establishing liaison offices in Myanmar, Cambodia, and Indonesia, further promoting Malaysia as the premier destination for medical tourism.
Malaysia's commitment to excellence in healthcare, combined with its strategic initiatives for catering to the needs of international patients, has solidified its position as a leading destination for medical travellers seeking world-class medical treatments and a seamless healthcare experience.
Thailand
Thailand has consistently demonstrated its prominence in the field of medical tourism, securing a spot among the top five markets for Destination Attractiveness and Medical Tourism Cost factors in the Medical Tourism Index (MTI) 2020-2021 Global Destination ranking. Renowned for its exceptional healthcare offerings, Thailand's industry is experiencing a robust growth trajectory, with projections indicating a significant post-pandemic rebound in 2023. According to estimations by Siam Commerce Bank's Economic Intelligence Center (SCB EIC), the Thai medical tourism market is expected to surpass its 2019 figure this year, reaching a valuation of THB 2 billion (USD 55.2 million).
Thailand's robust medical tourism growth has been fuelled by its competitive advantage regarding affordable medical expenses. With healthcare costs in Thai hospitals averaging 50-80 percent lower than in the United States, Canada, and the EU, the country presents an appealing proposition for tourists seeking medical treatment. At the same time, Thailand's services are also very high-quality. Thailand houses the biggest private hospital in Asia, which was also the first Asian hospital to receive ISO 9001 certification and approval from Joint Commission International (JCI), important quality benchmarks. 37 top private institutions have also now received JCI accreditation.
Thailand also differentiates itself as a leading medical tourism destination by offering a wide variety of medical services and procedures that are not commonly provided in other countries. These offerings include cosmetic surgery, gender reassignment surgeries, regenerative medicine, and stem cell therapies. Serving as a leader in pioneering treatments, Thailand provides these specialised services in state-of-the-art centres equipped with cutting-edge expertise and facilities.
Japan
Medical tourism in Japan is currently undergoing a significant transformation. The nation previously launched a plan to establish itself as a premier Asian medical care destination by 2020, with an ambitious goal of attracting around 430,000 international patients annually, though these aims were curtailed by the pandemic. With the pandemic subsided, Japan is now working again to promote its burgeoning medical tourism sector.
The country's healthcare system ranks among the most advanced and sophisticated globally, offering renowned expertise and state-of-the-art technology across various medical fields. Notably, oncology treatments and cardiovascular procedures have become particularly attractive to overseas patients, thanks to Japan's specialisation in heavy particle radiotherapy, regenerative medicine, and robot-assisted surgeries.
To support its medical tourism industry, the Japanese government has implemented several policies. Of notable mention is the introduction of medical visas in 2011, allowing visitors to access treatment, health check-ups, and opportunities for sightseeing, thus rendering Japan an alluring destination for medical tourists.
These endeavours, coupled with Japan's renown for cutting-edge treatments, cleanliness, and advanced medical technologies, firmly position the nation as a formidable contender in the global medical tourism industry in the coming years.
Singapore
According to the World Health Organisation, Singapore's highly efficient healthcare system has ranked it as one of the top systems in Asia and the sixth globally, making it an attractive destination for cutting-edge medical tourism.
Indonesia is the leading source market for Singapore's medical tourism, accounting for approximately 60 percent of the market share, followed closely by Malaysia and China. Singapore's dominance in this sector is supported by a range of policies aimed at simplifying and enhancing the medical tourism experience for international patients.
In addition to continuously streamlining visa procedures for inbound medical seekers, Singapore offers a diverse array of wellness and post-treatment activities, including luxurious accommodations, spas, and cultural experiences, all thoughtfully tailored to meet the unique needs of medical tourists.
Singapore has also established International Patient Service Centres (IPSCs) that function as specialised "medical travel agencies." These IPSCs are intricately linked to hospitals and serve as dedicated resources for medical tourists and expatriate patients, providing information, assistance, hospital pricing, and coordination of appointments with healthcare providers.
Singapore will remain a popular medical destination for wealthy patients from neighbouring Asian countries, including China, Indonesia, and India, even though it faces competition from Malaysia and Thailand, nearby destinations that can provide more affordable costs for healthcare, travel, and accommodations.
Medical tourism for elective treatments
Medical tourism in South Korea has developed into a booming industry in recent years, though with a unique slant oriented toward elective treatments to enhance physical beauty. In a country that places great cultural value on personal appearance, these procedures include not only plastic surgery, which makes up the bulk of the medical tourism industry, but also hair transplants, dermatology, optometry, and dentistry.
An economic downturn in 2007 left South Korea with an oversupply of doctors specialising in the cosmetic field. The intense competition pushed prices down and medical tourists from abroad became crucial in replenishing its customer base. The South Korean government pledged its support to the medical tourism industry, deeming it a focus area for growth—one of the country's "strategic products". It supported this goal by providing tax breaks and officially certifying selected medical tourism agencies. Currently, even non-Korean passport holders can benefit from tax refunds for cosmetic surgeries performed on Korean soil.
According to visitkorea.or.kr, South Korea represents 25 percent of the global medical beauty market, with many hospitals boasting state-of-the-art robotic technology to perform surgeries, and 3D modelling systems to visualise the final result. The country often attracts foreign tourists, especially influencers, that are chasing "K-beauty", leading South Korea to earn itself a reputation as the "plastic surgery capital of the world".
According to the Korea Health Industry Development Institute, the number of medical tourists visiting South Korea grew eightfold in ten years—from 60,000 in 2009 to nearly half a million in 2019. Foreign patients now make up almost half of all plastic surgeries performed in South Korea. A quick internet search brings up a plethora of medical tourism service providers that can assist prospective medical tourists along every single step of their journey—from pre-visit consultation at a hospital to assistance with medical visas, airport pickups, translation services, hotel bookings, and pampering services to help patients recover from their surgeries. Some medical tourism packages incorporate sightseeing or shopping tours after patients have recovered.
Ultimately, with signature procedures such as jawline surgery, South Korea has positioned itself as a true leader in this specialised industry and is currently benefiting from medical tourism as an important source of revenue for its economy.
Looking ahead
MNCs are well advised to monitor the growth of medical tourism in markets across the Asia Pacific region, where increasing scale and growing demand for innovative products and therapies promise significant opportunities in the coming years. As these territories continue to specialise in specific therapeutic areas or particular procedures, firms with relevant expertise stand to benefit greatly through greater engagement with diverse stakeholders and effective communication strategies.
Related news & insights: