Smoking and Health Across Asia Pacific
May 2023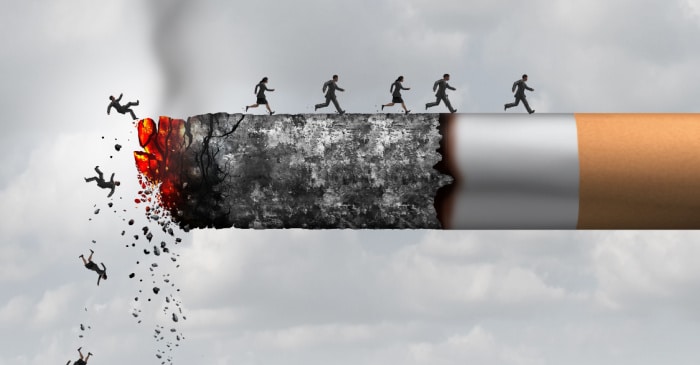 Smoking is a major cause of death worldwide, responsible for around eight million deaths annually, according to the World Health Organization (WHO). Direct tobacco use accounts for around seven million of these deaths, with the remaining 1.2 million consisting of non-smokers who are exposed to second-hand smoke. Despite the health problems associated with smoking, the global market is growing rapidly. With a current market size estimated at around USD one trillion in 2022, it is expected to increase at a compound annual growth rate (CAGR) of 5.6 percent until 2030, reaching around USD 1.6 trillion.
The world's most populous region, Asia Pacific, is also the world's largest cigarette market by volume, containing five of the top ten national markets, including Bangladesh, China, Indonesia, Japan, and Vietnam. Of these, China is by far the largest, representing around 70 percent of regional consumption in 2020. It is the largest producer and consumer of tobacco in the world, with more than 300 million smokers, or nearly one-third of the world's total. Overall, the Asia Pacific tobacco market is anticipated to keep growing fast, with China in particular anticipated to maintain an above-average CAGR of 8.9 percent until 2030.
It is important for MNCs to understand the smoking-related healthcare challenges faced by territories across the Asia Pacific region, as well as the differing approaches taken by markets across the region toward handling the problem. This issue includes a regional policy overview, explores Australia's noteworthy anti-smoking measures, and highlights this month's World No Tobacco Day.
Regional Policy Landscape
Rapid industry growth, high rates of health complications, and new trends such as e-cigarettes make smoking a complex challenge for national policymakers, which are taking a diverse range of approaches toward the issue across the Asia Pacific region. While countries such as Australia and New Zealand have enacted some of the world's most comprehensive anti-smoking policy stances, others such as Indonesia remain comparatively lax. Below are a series of notable regional profiles from across Asia Pacific.
China: Smoking has recently been tackled in the major guiding policy, the Healthy China Action Plan (2019–2030), which includes two tobacco control targets: 1) the smoking prevalence of people aged over 15 years old lower than 24.5 percent and 20 percent by the year 2022 and 2030, respectively; and 2) 30 percent and 80 percent of population protected by 100 percent smoking bans by 2022 and 2030, respectively. Regarding e-cigarettes, China's State Council announced in November 2021 that it had amended the Regulations for the Implementation of the Tobacco Monopoly Law of China to include e-cigarettes and related products, stipulating that they are subject to the same regulations as tobacco products. Though the WHO recommends raising tobacco excise taxes to at least 70 percent of retail prices, in China, the current tax remains much lower.
New Zealand: New Zealand is a recognised leader in tobacco control. At present, there are over 529,000 smokers in New Zealand. The Ministry of Health has launched the Smokefree Aotearoa 2025 Action Plan intending to transform New Zealand into a smoke-free nation by 2025. In December 2022, it passed a world-first tobacco law banning smoking for the next generation, ensuring tobacco cannot be sold to anyone born on or after 1 January 2009. However, the new laws will not restrict vape sales. Under the Smokefree Environments and Regulated Products (Vaping) Amendment Act 2020 (the Amendment Act) most advertising of these products is banned, and the age limit is set at 18. Legislation requires manufacturers to reduce nicotine content in smoked tobacco products and cap the number of eligible retailers to 600 (approximately 10 percent of the current number of retailers).
Hong Kong: Since the enactment of the Smoking (Public Health) Ordinance in 1982, a progressive and multi-pronged approach to tobacco control, the smoking prevalence in Hong Kong has gradually dropped from 23.3 percent in the early 1980s to 10.2 percent in 2019, which is among the lowest in the world. The Hong Kong government aims to reduce tobacco use from 9.5 percent of the population to 7.8 percent by 2025.Following the lead of countries like New Zealand, the Hong Kong government is considering banning the purchase of tobacco for people born in 2009 or later, which means people aged 18 or above would be banned from buying cigarettes for life by 2027. From April 30, 2022, the import, promotion, manufacture, sale, and possession for commercial purposes of alternative smoking products including electronic cigarettes, heated tobacco products, and herbal cigarettes are prohibited.In the 2023/24 Budget Address, the price of a pack of 20 cigarettes was raised by HKD 12 (USD 1.5) but critics claim that this is still too low compared to other countries.
Indonesia: Smoking prevalence among men aged 15 and older in Indonesia is among the highest in the world at 67 percent, while the rate among boys aged 13-14 stands at 36.2 percent. Despite the urgency of these figures, many factors continue to cause Indonesia to lag behind other countries in embracing tobacco policy changes. Complex bureaucracy and unclear roles and responsibilities leave government structures vulnerable to corruption, especially when faced with power imbalances between well-entrenched tobacco industry networks versus less established tobacco control networks. Along with the deeply entrenched social acceptability of smoking in Indonesia, tobacco companies have a strong influence on both policy decisions and shaping public perceptions. Indonesia is currently the only country in Asia-Pacific that has not acceded to the WHO Organization- Framework Convention on Tobacco Control (WHO-FCTC), an action that is greatly needed to shift the power imbalance in favor of public health stakeholders.
Singapore: Singapore is known for its comprehensive tobacco control legislation and its "hostile environment" for tobacco promotion and advertising. As of 2020, smoking rates have dropped to 10.1 percent, compared with 13.9 percent in 2010. In 2019, Singapore announced that it would progressively raise the minimum legal age from 18 to 21 for the purchase, use, possession, sale, and supply of conventional tobacco products. The legal smoking age will be raised by one year each January. E-cigarettes have been banned in Singapore since 2018. The Singaporean government also reviews its tobacco tax regularly, raising it twice by 10 percent in 2014 and 2018.
Deep Dive: Australia
Australia has been a world leader in reducing smoking, and the rate of smoking continues to decline in adults, children, and adolescents. Less than forty years ago, smoking was a normal part of life in the country, and cigarette brands advertised freely. Over the past two decades, the Australian government has implemented a wide range of tobacco control measures to reduce smoking including plain packaging, staged excise increases on tobacco products, health warnings, advertising bans, educational programs, and support for smokers to quit, such as through nicotine replacement therapies on the Pharmaceutical Benefits Scheme.
Among measures, Australia's tobacco plain packaging legislation has become internationally recognized as a major public health victory. Nearly all forms of tobacco advertising and promotion are prohibited by national and sub-national laws.As of December 1, 2012, plain packaging of tobacco products available for retail sale in Australia was required, making Australia the first country to mandate plain packaging. All tobacco products across the country must be packaged in a certain color, display required text and graphic health warnings, and may not feature any logos, branding, or promotional text. Three years after full implementation, approximately 25 percent of the decline in smoking prevalence in Australia was attributable to plain packaging. As of 2019, 16 countries, including France, New Zealand, Singapore, the UK, and Thailand, have adopted plain packaging, and today more than 20 additional countries have started investigations into adopting plain packaging locally.
Now, fewer people are smoking in Australia than ever before. The 2019 National Drug Strategy Household Survey report conducted by AIHW showed that in 2019, 11.0 percent of Australians smoked tobacco daily, down from 12.2 percent in 2016 and 24 percent in 1991. Next, Australia aims to reduce smoking prevalence to below 10 percent by 2025 and 5 percent or less for adults (≥18 years) by 2030. Despite this success, e-cigarettes and vaping products are becoming an increasingly serious issue in Australia. To continue its role as a leader in this domain, it is anticipated that Australia will adopt a strong stance again e-cigarettes and vaping products in future legislation.
Commemorating World No Tobacco Day
World No Tobacco Day was created in 1987 by the Member States of the WHO to draw global attention to how the tobacco epidemic causes preventable death and disease. The day has been celebrated annually on May 31 ever since. This year's theme, "We need food, not tobacco" is based on the notion that tobacco growing and production exacerbates global food insecurity. The WHO claims that globally each year, 3.5 million hectares of land are converted for tobacco growing, contributing to annual deforestation of 200 000 hectares. Heavy use of pesticides and fertilizers in tobacco cultivation further depletes soil fertility leading to soil degradation and desertification. The fact that four of the world's ten largest tobacco cultivators are defined as low-income food-deficit countries is even more cause for concern when considering that the handling of insecticides and toxic chemicals causes farmers and their families to suffer from ill health, that unfair contractual arrangements with tobacco companies keep farmers impoverished, and that child labor is often woven into tobacco cultivation. For these reasons, to observe this year's World No Tobacco Day, we observe the WHO's call on governments and policymakers to step up legislation to enable conditions for tobacco farmers to shift to sustainable, nutritious crops.
Looking ahead
As the world's largest tobacco market, Asia Pacific will likely continue to be a key region in the development of global smoking trends in the coming years. MNCs are advised to keep close tabs on the region's leading policymakers in this field, notably Australia and New Zealand, which are likely to influence legislative efforts around the world in this domain. As smoking rates rise in China, the government can also be expected to take stronger measures, which may be reflected in new healthcare initiatives or stricter enforcement.
---
Related news & insights: