China's Race to Renewable Energy Leadership
September 2023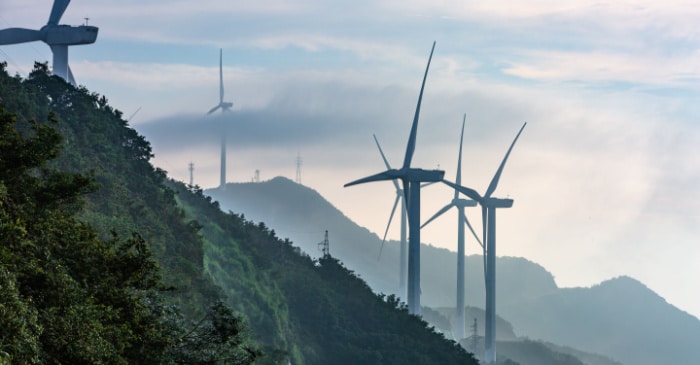 By Thomas Chan, a consultant based in Hong Kong. Thomas specialises in government and public affairs. Sandpiper's Public Affairs & Government Relations team has extensive experience in working with governments and other stakeholders across South-East Asia, China, Japan, and Australia, helping companies achieve their business objectives.
Amid the global push for greater environmental protection, China has made much progress in clean energy and has set ambitious medium-term net zero goals. As part of the national 14th Five-Year Plan, China aims not only to increase the installed capacity of new renewable energy but, more importantly, to improve the issues of grid connection and integration of renewable energy generation, ensuring that the proportion of renewable energy in newly added power generation projects is not less than 50%. 
This guide will explore the current policy direction of China's renewable energy development, the China's carbon neutrality goals and the challenges ahead.
Policy directions and success
China has already topped many of the world's renewable energy activities. Wind and solar power installations topped the world's output, and renewable energy power generation installations accounted for more than 34% of the world's total. Among them, wind turbine components and complete machine production have accounted for more than 50% of the global market share, and the photovoltaic industry supplies over 70% of the world's component market.
According to the "China Renewable Energy Development Report 2022," China's installed renewable energy capacity reached 1.213 billion kilowatts by the end of 2022, surpassing coal-fired power installations. Renewable energy's share of the total installed capacity has risen to 47.3%. Its annual power generation is 2.7 trillion kilowatt-hours, accounting for 31.6% of the nation's electricity consumption. Wind and solar photovoltaic (PV) power exceeded 1 trillion kilowatt-hours for the first time, reaching the consumption level of Chinese urban and residential users.
The "Action Plan for Peak Carbon Emissions by 2030" has directed that by 2030 the combined installed wind and solar power generation can exceed 1.2 billion kilowatts. The current trend would imply that by the carbon-neutral phase, this capacity could surpass 5 billion kilowatts, sitting comfortably as the dominant power source in China.
The push for green energy is part of China's priority in safeguarding energy security and balancing economic development and emissions reduction. With the country's demand for energy expected to grow significantly in the foreseeable future, policymakers need to ensure sufficient and uninterrupted energy supply, particularly in the face of potential challenges like natural disasters or surges in energy consumption.
"Dual carbon" vision
The tenet of the country's push for renewable energy is its ambitious carbon-neutrality plan, or known as "dual carbon", as outlined in the "Technological Support for Carbon Peak and Carbon Neutrality Implementation Plan (2022-2030)." Under the framework of the Paris Agreement, this plan entails the coordinated national effort to achieve its namesake zero-carbon ambitions: reaching the carbon peak target by 2030 and carbon neutrality by 2060.  
The "dual carbon" plan encompasses three phases:
Phase 1: From now until 2035, carbon emissions will pass the peak plateau period and show an overall downward trend. The proportion of non-fossil energy consumption will reach 25%, while fossil energy will still be the basic energy source. 
Phase 2: From 2035 to 2050, carbon emissions will decline steadily, with non-fossil energy accounting for over 60%. Electricity demand will plateau around 2045, and electric power substitution will be widely popularised in all sectors of society, with the electrification rate increasing to around 45%. 
Phase 3: From 2050 to 2060, the construction of the new energy system will be fully mature. Fossil energy will be transformed into raw materials and supplementary backup, with non-fossil energy consumption accounting for over 80%, supporting the smooth realisation of carbon neutrality goals.
Going its own path
Despite the efforts and vision to curb emissions, China's carbon emission level has not dropped – and even on the rise. China is currently by far Asia's and the world's largest emitted, almost reaching 10 million tonnes annually, more than one fourth of global emissions. In terms of accumulated emissions, China is the second largest contributor with an amount half of the US'. Production-based emission level weighs more than that coming from consumption, exacerbated by the fact that China produces goods for countries around the world.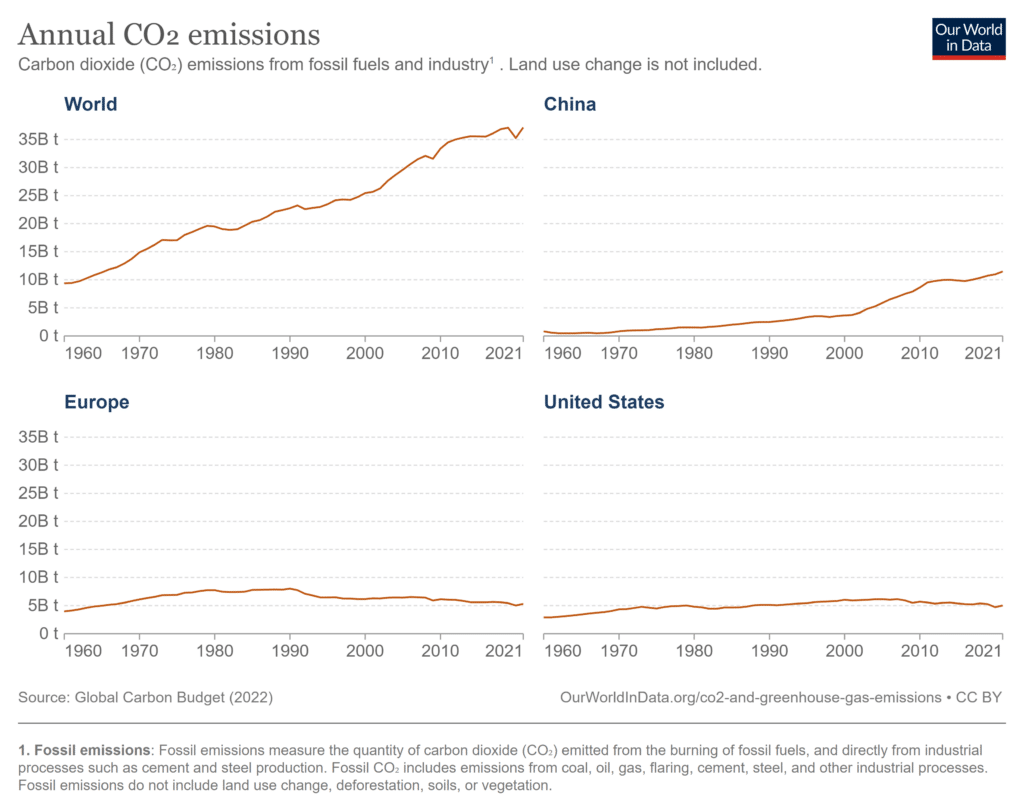 In Q2 2023, China's carbon dioxide emission grew by 10% year on year and has surpassed the record level seen in 2021. The carbon surge is indirectly caused by the draught seen in China's hydropower fleet and the need to revitalise its sluggish economy through carbon-intensive regulatory stimuluses. In fact, the country's carbon dioxide emission has been on a steady upward trend for the past years and is consistent across sectors. Coal-based steel and cement production is also contributing to the problem, and investment coal-based steel capacity is expected to continue well in to 2025, the year when China would start reducing coal consumption.
The contradiction is, however, consistent with China's mantra in pursuing carbon neutrality. Though positioning itself as a determined force of change, China has iterated that its transition to a green energy landscape will go at its own way and pace, prioritising the balance between non-fossil and fossil energy sources with an increasing emphasis on the former. Fossil fuels will continue to be foundational in ensuring a reliable energy supply. Hence, China's transition will be economic-oriented and ensure economic growth won't be jeopardised and not subject to foreign interference.
Nonetheless, its breakneck speed of clean-energy installations has been remarkable. For the first time, the combined generation capacity of renewables in 2023 has surpassed that of coal, and wind and solar additions are expected to hit  264 gigawatts.
While the policy direction is moving beyond subsidies, "double carbon" is gaining momentum across the nation, as evidenced by the province-level five-year plans that are driving significant additions to wind and solar power capacity, surpassing 620 million kilowatts. In 2022 alone, China's renewable energy sector witnessed a remarkable increase of 152 million kilowatts in newly installed capacity, accounting for an impressive 76.2% of the country's total new power generation installations and approximately half of the global increase in renewable energy capacity. Renewable energy is expected to account for over 80% of the country's newly added electricity consumption, and the National Energy Administration (NEA) anticipates that by 2025, wind and solar power generation in China will double from the levels of 2020.
Challenges ahead
Yet, despite the robust outlook, several bottlenecks remain.
First, compared to traditional energy sources, new energy requires a significantly larger amount of land, and land allocation has emerged as a stranglehold on its development. In the central, eastern, and southern regions, where most plains are classified as permanent basic farmland, some new energy projects cannot be reasonably developed or used without converting general farmland into construction land through a lengthy process.
Second, while China's clean energy hardware is developing astonishingly, it loads green electricity faster than its grid can digest, resulting in huge energy wastage. For instance, the installed capacity of new energy in the northern regions has reached 230 million kilowatts. Still, the local market is limited, and the cross-regional transmission capacity is only 42 million kilowatts, accounting for only 18% of the installed capacity of new energy. The laggard planning and construction of energy storage and power stations are affecting grid stability and hindering the integration of renewable energy.
Third, the country's grid structure also contributes to the problem. Instead of having consumers and producers trade power so the market demand could determine the energy supply, the production is based on rigid relationships between producers and consumers, in which firm contracts, rather than the equilibrium of supply and demand, dictate production level. A consistent mismatch of energy supply can result in wastage or fossil fuels as an indispensable stand-in.
The good news is that China is offering solutions to this problem. The latest policy directives have outlined the focuses ahead, from accelerating the construction of long-distance power lines to allocating generated renewable energy to places where it is needed to install more energy storage systems that can absorb power for future redistribution. These efforts will go hand in hand with cubing fossil fuels and facilitating innovation and investment into the renewable energy sector. Though it may take time, China's development in renewable energy is on the right track.
Related news & insights: